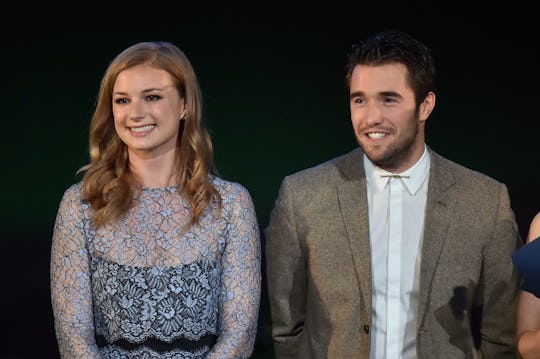 Michael Buckner/Getty Images Entertainment/Getty Images
Emily VanCamp & Josh Bowman Are Engaged!
Keeping it simple but cheeky couple and co-stars Emily VanCamp and Josh Bowman shared the news of their latest adventure on Instagram. It's (somewhat) official: Emily VanCamp and Josh Bowman are engaged! The photo posted features VanCamp's ring and a heart emoji as the caption, with a soft, woodsy background. Romper has reached out to both of their reps for comment and has not heard back at this time.
VanCamp and Bowman have been together for quite awhile — six years, in fact. The two play a married couple on Revenge, though on the show their relationship is by no means a happy one. But, thankfully, VanCamp and Bowman's reality is nothing like what happens between their characters on screen. "It's hard for my family to watch—it's also hard for them to see me in that light," VanCamp revealed in an interview back in 2014. "But we're actors. None of that lives in any of us. Thank God."
So why get engaged now? Are VanCamp and Bowman looking to start a family? The couple definitely keeps to themselves, sharing very little with outside sources, so it's somewhat hard to tell. Talking about Bowman to Elle Canada a few years ago, VanCamp shrugged: "I barely talk about him in interviews, to be honest." Still, there are a few hints as to what their futures hold. Way back when the two started dating, VanCamp admitted, "I find myself dreaming about [having children] all the time," so it's a definitely a possibility.
You can see the adorable engagement Insta below:
Naturally, fans who have shipped the couple from the beginning are freaking out at the news. The Instagram post is flooded with congratulatory emojis and users tagging one another so that nobody misses out on all the sweetness. Dubbed "goals," the two definitely have a fair amount of relationship wisdom to offer. In 2013, VanCamp told Women's Health that there are a few ways to keep their coupledom healthy as ever: "Laugh a lot and be really delicate with the other person's heart, because sometimes you start to take each other for granted. Always remember that neither of you needs to be there. It's a choice every day to stay together," she advised.
Posting their engagement announcement on social media was a big step for VanCamp and Bowman. Aside from the one-off Valentine's day post and picture-perfect vacation selfie, the couple doesn't share much. Still, this taste has fans hoping for more: Is a wedding hashtag in the future? It seems unlikely, but why not dream?