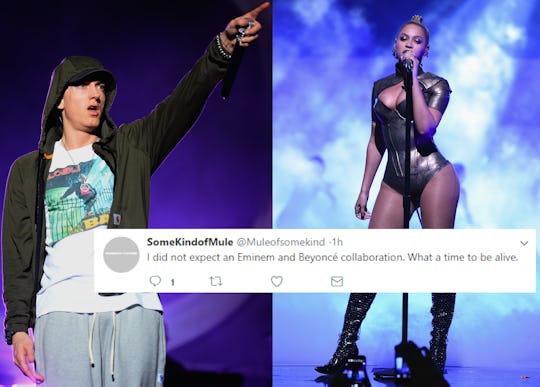 Theo Wargo/Getty Images Entertainment/Getty Images
Eminem & Beyoncé Release A Single, & Fans Are So Obsessed
Pineapple and ham. Snoop Dogg and Martha Stewart. Orange juice and toothpaste. There are some unlikely combinations that go surprisingly well together, while others... Not so much. Now that Eminem and Beyoncé have released a single together, fans are trying to figure out which category the two musicians fall into. Some don't remember how they ever lived without the new track, "Walk On Water," while others are wishing that they still did. However, both camps are in agreement on one issue: this is a super weird pairing. Whose idea was this? Are Slim Shady and Queen Bey, like, friends or something? What is happening right now?
A fun, unifying theme among those who like the song is that a good portion of them only like about half of it — specifically, the half featuring the artist they were already into. If this was supposed to unify the country once and for all, well, get right in line behind gun control and football, you two, because there's nothing more American than insisting that your opinion is the only correct one. But whether you think Eminem ruined Beyoncé's new song, or vice versa, you have to admit that they picked a very *interesting* day to release their collaboration. It's pretty clear who ended up as the Bernie Sanders of this situation.
Is this payback for Taylor Swift refusing to release Reputation on Tidal? Come on, you guys, you've really got to let that go already. Leave poor Taylor alone. She's literally died and been resurrected at this point, can't people be fans of all three of you?
Nope, guess not. Well, I'm just happy that everyone got some new music to enjoy today, whether they're into nasally rap, album-length burn books, or Beyoncé patiently explaining to her fans that while she's obviously a goddess, she "ain't no Jesus." Whoever chose her for that chorus is brilliant, by the way. Nobody ever mistook Greg Allman for an angel, but when Bey sings those lyrics, you get the feeling that she's legitimately correcting a common misconception.
And of course, in typical Beyoncé fashion, she added the element of surprise. Is she one of those people who gets a kick out of seeing the reaction, or is it just that she knows she doesn't need to do any promotion, because anything she releases will instantly be heard about (and purchased) by about 90 percent of the developed world?
No way, she's definitely not trying to pull a Kanye. She's above that.
Oof, and some people thinks she's above this, too.
Let's just enjoy this magical unicorn of a song for what it is: the most important collaboration since Aerosmith and Run-DMC.
Or is it the most poorly thought out one since Fall Out Boy and Missy Elliot?
Listen to those lyrics, would you? They're trying so hard to please everyone, just let them live! Be grateful for how much they sweat and bleed for you, their adoring public. They don't owe you. This is a gift!
That's more like it. This is a huge deal, people. One day, ten or twenty years from now, we'll all be reminiscing about where we were when we heard the track that forever changed music as we know it. Much love to Dido (remember Dido?) but uh... Stan who?
It's so beautiful! The juxtaposition of Beyoncé's soulful chorus with Eminem's perpetually teenage angst. This is like when you come home to find your dog and cat all cuddled up together, or when your boyfriend and best friend finally feel comfortable hanging out alone for two minutes while you refill your drink. It's every woman's dream: to truly have it all!
That is enough, Twitter! You're grounded. No iTunes for a week.