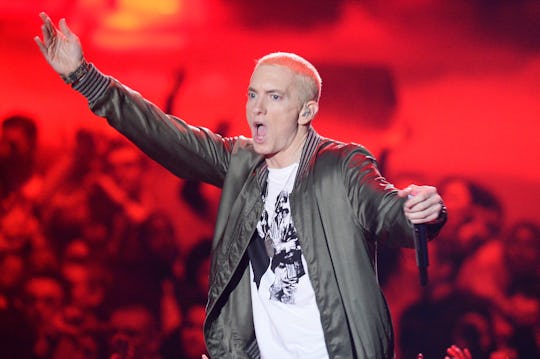 Kevork Djansezian/Getty Images Entertainment/Getty Images
Eminem's Daughter Hailie Talks About Her "Supportive" Father In A Rare Interview
If you were a fan of Eminem at the height of his career, you may remember his raps about his daughter, Hailie Scott Mathers. And even though he name dropped his daughter in so many songs, she always remained relatively out of the spotlight, rarely making public appearances or giving interviews — until now. In a new interview with the Daily Mail, Hailie Scott Mathers opened up about Eminem as a father as well as what she's been up to lately.
In the new interview with the Daily Mail, when asked if Eminem is a supportive father and if they see each other often, Hailie said, "Of course, we are very close." Eminem and his ex-wife Kim Mathers welcomed Hailie, their only child together, in 1995, as People reported. The former couple were married twice, divorcing for the second and final time in 2006.
The famous rapper has sung about his daughter, now 22, in many of his songs over the years, including one that he released as early as last year. In December 2017, he dropped the album Revival, as People reported and wrote the song "Castle" in the form of letters to Hailie, dated from before she was born through 2007, based on the song's lyrics on Genius. Eminem used the song to comment on how he tried to keep his daughter's life private, and how he hopes she knows he's a good person.
Eminem also addressed his daughter Hailie on the song "Arose," rapping:
And it's your birthday, Jade, I'm missing your birthday / Baby girl, I'm sorry, I f*cking hate when you hurt, Hai.
He rapped to Hailie when she was a child as well, including in the song "Mockingbird" on his 2004 album Encore, according to Genius:
Hailie, I know you miss your mom, and I know you miss your dad . When I'm gone, but I'm tryin' to give you the life that I never had / I can see you're sad, even when you smile, even when you laugh / I can see it in your eyes, deep inside you wanna cry.
In a 2004 Rolling Stone interview (in between Eminem and Kim's first and second marriages) Eminem opened up about raising Hailie, then 9, his niece Alaina and his half brother, who were 8 and 18, respectively, at the time. He had full custody of Alaina, and joint custody of Hailie with Kim, who was on house arrest for possession of cocaine at the time, according to Rolling Stone. When asked about his most important rules as father, Eminem told the magazine:
Teach them right from wrong as best I can, try not to lose my temper, try to set guidelines and rules and boundaries. Never lay a hand on them. Let them know it's not right for a man to ever lay his hands on a female. Despite what people may think of me and what I say in my songs — you know, me and Kim have had our moments — I'm trying' to teach them and make them learn from my mistakes.
Now that Hailie has recently graduated from Michigan State University, where she studied psychology, she's carving her own path, though she's unsure where it'll take her. According to the Daily Mail, she is currently residing in her own house in Detroit, Michigan, which is her father's hometown and she told the publication that she's been keeping busy by toying with a modeling career. On Instagram, where she is known as Hailie Scott, her account boasts more than 900,000 followers.
Hailie and Eminem definitely faced rough family circumstances as she grew up, but it's clear that the father and daughter still have a strong relationship. It will be exciting to see what she does next, should she choose to open up about her life to the public more.