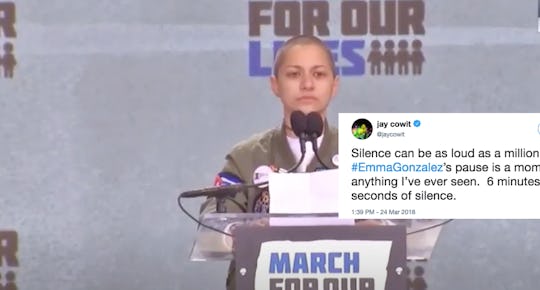 Emma Gonzalez's Moment Of Silence During The March For Our Lives Has Twitter Shook
On Feb. 14, a 19-year-old entered Marjory Stoneman Douglas High School with a semi-automatic assault rifle and murdered 17 students and teachers. The nation was once again heartbroken by an unimaginable act of gun violence. But this time, Americans were going to do something about it. In the weeks since the horrific mass school shooting in Parkland, Florida, stunned the nation, a group of student survivors has emerged as the voice of reason for gun safety in the U.S. Among these outspoken and determined teenagers is Emma Gonzalez, who passionately called out lawmakers and gun advocates on their BS just days after the mass shooting. Most recently, Emma Gonzalez's moment of silence during the March For Our Lives has Twitter shook.
As Teen Vogue reported, Gonzalez began her speech on Saturday, March 24, focusing on how instantly everything changed for residents of Parkland, Florida. "Six minutes and about 20 seconds; in a little over six minutes, 17 of our friends were taken from us, 15 were injured, and everyone — absolutely everyone — in the Douglas community was forever altered," Gonzalez said to the Washington, D.C., crowd Saturday afternoon. "Everyone who was there understands. Everyone who has been touched by the cold grip of gun violence understands." As Cosmopolitan reported, she continued:
For us, long, tearful, chaotic hours in the scorching afternoon sun were spent not knowing. No one understood the extent of what had happened. No one could believe that there were bodies in that building waiting to be identified for over a day. No one knew that the people who were missing had stopped breathing long before any of us had even known that a code red had been called. No one could comprehend the devastating aftermath, or how far this would reach, or where this would go. For those who still can't comprehend because they refuse to, I'll tell you where it went: Right into the ground, six feet deep.
Gonzalez went on to name all 17 of the innocent lives that were lost that day in Parkland, Florida — along with the things they would never again be able to do. As Time reported, the 17 students and teachers who were gunned down at Marjory Stoneman Douglas High School were: Nicholas Dworet, Aaron Feis, Jaime Guttenberg, Alyssa Alhadeff, Scott Beigel, Meadow Pollack, Luke Hoyer, Carmen Schentrup, Gina Montalto, Alex Schachter, Christopher Hixon, Peter Wang, Alaina Petty, Martin Duque Anguiano, Helena Ramsey, Joaquin Oliver, and Cara Loughran.
What Gonzalez did next, though, was perhaps the most powerful of all: She stopped speaking and stood on-stage in complete silence. The crowd stood silent along with her for while, intermittently interjecting with applause, cheers, and chanting of, "Never again, never again." (Honestly, just watching the video footage sends chills down my spine.)
Minutes passed until Gonzalez spoke again. "Since the time that I came out here, it has been 6 minutes and 20 seconds," Gonzalez continued, after silencing a beeping alarm she had brought on-stage. "The shooter has ceased shooting and will soon abandon his rifle, blend in with the students as they escape, and walk free for an hour before arrest. She concluded with:
Fight for your lives before it's someone else's job.
Unsurprisingly, Twitter was ablaze before Gonzalez had even finished her moving speech. One Twitter user wrote, "#EmmaGonzalez just stopped the world."
Another person tweeted, "The sight of #EmmaGonzalez standing like a statue steadfast granite as she looks out over everyone who has joined in on the #MarchForOurLive is possibly the most astonishing display of strength I've ever seen.#NeverAgain."
And the tweets just kept coming.
Guys, I am so f*cking proud of Emma Gonzalez and all of the Parkland shooting survivors — for their bravery and for their unrelenting determination over this past month. I cannot even begin to imagine what these teenagers have been through since Feb. 14. But their voices have definitely been heard, and the world is watching. The time is now for lawmakers and politicians to address the rampant gun violence problem in the United States. Because no child should have to fear for their lives while trying to get an education. And the March For Our Lives is just the beginning of an unstoppable movement to ensure #NeverAgain becomes a reality.