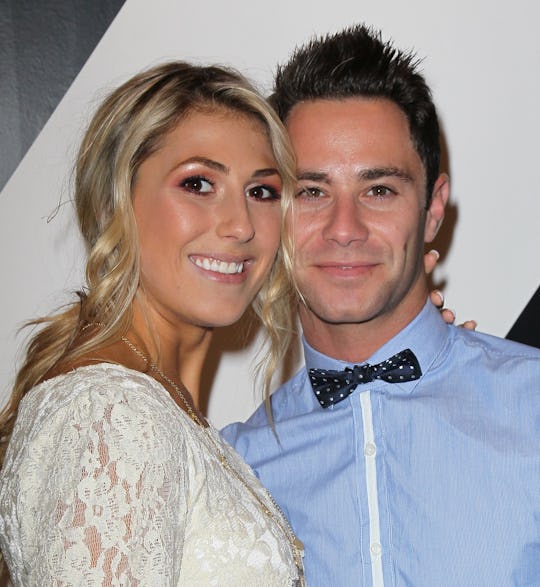 David Livingston/Getty Images Entertainment/Getty Images
Emma Slater & Sasha Farber Got Engaged On 'Dancing With The Stars' & Yes, There Were Tears
Love was in the air on Dancing with the Stars Tuesday night. Usually, the Tuesday show is sad, as there is almost always an elimination. Losing a team is never fun, and this Tuesday was no exception, as there was a double elimination set. But don't worry, things took a turn for the better when Emma Slater and Sasha Farber became engaged on Dancing with the Stars' elimination show. So, while you had to say goodbye to two of your favorite teams, at least a new team came together.
The started the elimination night with a beautiful dance to Bruno Mars' "Just the Way You Are." And while it was delightful — again, Tuesday night's are usually a little sad — it felt a little out of place. That is, it felt out of place until Sasha got down on one knee and asked Emma to marry him. With the entire crowd cheering, confetti falling from the ceiling, the giant words "she said yes!", and Tom Bergeron crying, Emma accepted the proposal and the entire cast joined the happy couple on the dance floor. Even though two celebrities (Babyface and Vanilla Ice) were sent home, things just didn't feel as gloom as they usually do.
According to People, Sasha gifted Emma with a pink sapphire ring, supposedly the "same color as [Emma's] mother's ring."
Emma is no longer a pro on the show, since her partner Rick Perry was eliminated within the first few weeks of this season. But, that doesn't mean she is no longer dancing on the ballroom stage. This time around, the couple performed a beautiful contemporary routine before Sasha popped the question.
This season, Sasha is paired with Terra Jole, of Little Women: L.A. Terra and Sasha have been raking in great scores throughout the season thus far — who knows how far they may go. No matter what happens, there's no doubt that Emma will be there rooting Sasha and Terra on.