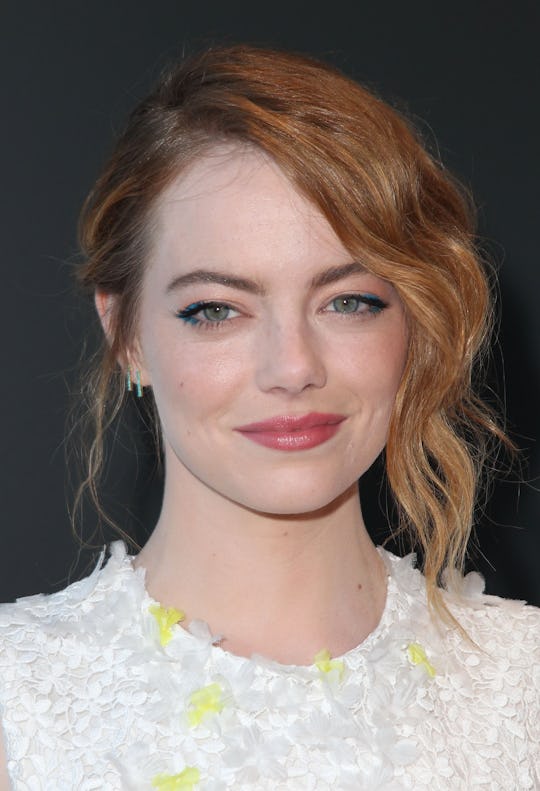 David Buchan/Getty Images Entertainment/Getty Images
Emma Stone Cast As Cruella De Vil In Upcoming Reboot & It's A Great Day For Disney Fans
It's a beautiful time to be alive if you're a Disney-lover. The studio that defined millions of childhoods has gone all-in on the reboot game of late, announcing a slew of upcoming projects over which fans can freak out. Chief among that exciting news was confirmation this week that dream celebrity-BFF Emma Stone will play Cruella de Vil in the 101 Dalmatians spin-off, Cruella.
For anyone asleep throughout their childhood, or in case you forgot, Cruella de Vil is 101 Dalmations' resident fur-obsessed villain, who's intent on murdering a bunch of puppies for their hides. Emma Stone, in contrast, is a kick-ass ray of sunshine/beacon of hilarity. While Stone may not be the most expected choice—she hasn't gone full-on villain before— I'm a firm believer that the Easy A actress can do anything (well, except play part-Asian characters...). Plus, according to The Hollywood Reporter, the film will be an origin story, similar to Angelina Jolie's Maleficent, so the character will likely at least start out as empathetic.
I'm not sure how the studio intends to engender sympathy for a woman whose primary goal in life is to skin adorable puppies so she can wear their fur, but given that the script will be written by 50 Shades of Grey scribe Kelly Marcel, I'm guessing that, in Cruella's backstory, her lover was tragically mauled by dalmatians in front of her eyes. By the time she escaped her bondage restraints to help him, it was too late, and she's been wrapping her sorrow in fur ever since. (Yes, Disney, I'm available to co-write the script.) ‌
This movie won't be the first time Cruella's been portrayed in live-action. Glenn Close previously rocked the famous black and white hair in a 1996 version of the story, as well as its sequel. But it's been a while since Cruella's gotten the movie attention she deserves. Though Disney hasn't announced an official release date yet, Us Weekly reports that Stone's version of the villain will be hitting screens sometime in the next three years.
While Stone works on getting Cruella's icy stare and curled lips down pat, the rest of us can content ourselves with the other projects Disney recently confirmed, because they're also ridiculously exciting. These include a story about Tinkerbell starring Reese Witherspoon (!), a version of A Wrinkle In Time helmed by Selma director Ava DuVernay (!!), and a Mary Poppins reboot starring Emily Blunt and Lin-Manuel Miranda (!!!!!!!!!!!!). And as if that wasn't great enough, we've got further-along projects like a new Beauty and the Beast starring Emma Watson, set for a 2017 release.
Like I said, it's a good time to be a Disney-lover. ‌