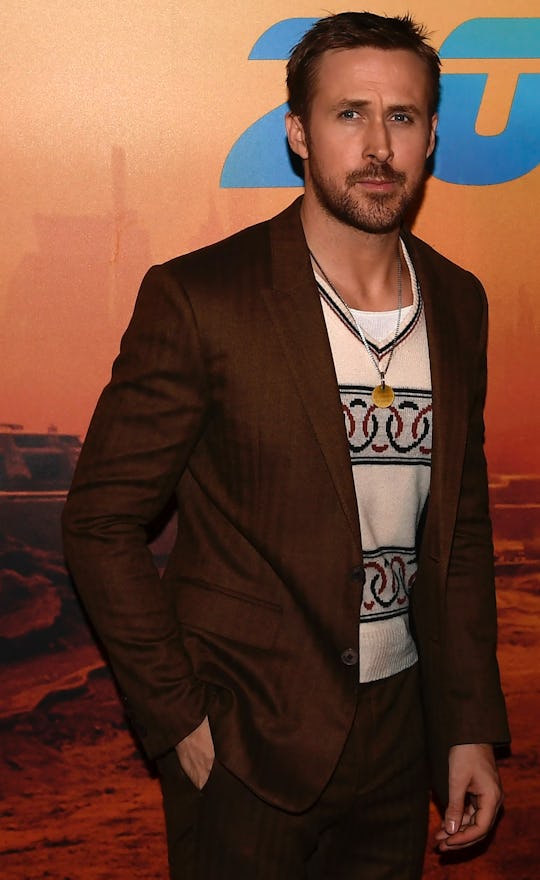 PHILIPPE LOPEZ/Getty Images
Ryan Gosling Had An Amazing Reunion During His 'SNL' Monologue
The one billionth season of Saturday Night Live premiered on Saturday (that's an estimate), and it was hosted by Ryan Gosling, who is promoting his new movie, Blade Runner 2049, but he still made time to talk about La La Land. However, the highlight of the scene came when Emma Stone interrupted Ryan Gosling's SNL monologue in the most adorable, Emma Stone-like way. Because in case you hadn't heard, Ryan Gosling would like to remind you that Ryan Gosling saved jazz. Apparently.
La La Land was the subject of think piece after think piece for its treatment of jazz, which some argued just didn't quite get it, especially with two white protagonists trying to save a musical style invented and perfected by black artists. This is exactly the joke Gosling makes in his opening monologue for SNL, proving once again that Gosling can, at the very least, recognize criticisms of himself and his work and laugh at himself. He starts by telling the audience, "I haven't felt this excited since I saved jazz. You guys know I saved jazz right?" He added, "I guess it was dying. I saved it."
He riffed a little on the piano, smoking a cigarette and calling New Orleans "Nerlins," until Keenan Thompson came to interrupt him, telling him he did not actually save jazz.
Gosling keeps up with the joke, dropping in little comments about the movie he's actually trying to promote here and there, until it almost gets old, when Emma Stone shows up out of the blue to lend her charm and kind of unbearably adorable chemistry with Gosling to the mix. "Yeah ya jazzed fine," she tells Gosling as he's interrupting the band to break down their instruments. "Uh, what are you doing? Ryan, you didn't save jazz. How many times have we talked about this?" she takes Gosling's cigarette and takes a drag, "Because you didn't save jazz. We saved jazz." It was a cute, surprising moment, proving that Stone gets the joke just as much as her costar.
This is Gosling's second time hosting Saturday Night Live, and the show even brought back the alien sketch, another one in which Kate McKinnon reminds everyone that she's the funniest person on television. It is not the first time, however, that Gosling has let everyone know that he is in on the joke about himself, or that he's come out and said exactly the right thing that you've been wanting him to say. Does anybody here remember Feminist Ryan Gosling?
It was the meme that made Gosling arguably the world's first internet boyfriend. Tumblr would show pictures of Gosling doing something adorable like petting an animal or staring right into your soul and saying "Hey girl, do you think Peggy McIntosh should update her privilege napsack to include people on House Hunters?"
And even more lovable than Ryan Gosling on his own is Ryan Gosling side-by-side with Emma Stone. The two actors work so well together they seem to be paired opposite one another again and again. They first played love interests back in 2011 for the movie Crazy, Stupid, Love, then again in Gangster Squad, and finally in their biggest movie yet, La La Land. In fact, I'm not at all convinced that the movie would have been as big a hit as it was if not for the couple's nearly palpable chemistry.
I do know that this joke on Saturday Night Live probably would not have landed if Stone hadn't been there to come in at the end of the bit and save it. While I'm a little disappointed we weren't surprised with a sudden double-host, I'm glad she was there — even if it was just for a little bit.
Watch Romper's new video series, Romper's Doula Diaries:
Check out the entire Romper's Doula Diaries series and other videos on Facebook and the Bustle app across Apple TV, Roku, and Amazon Fire TV.