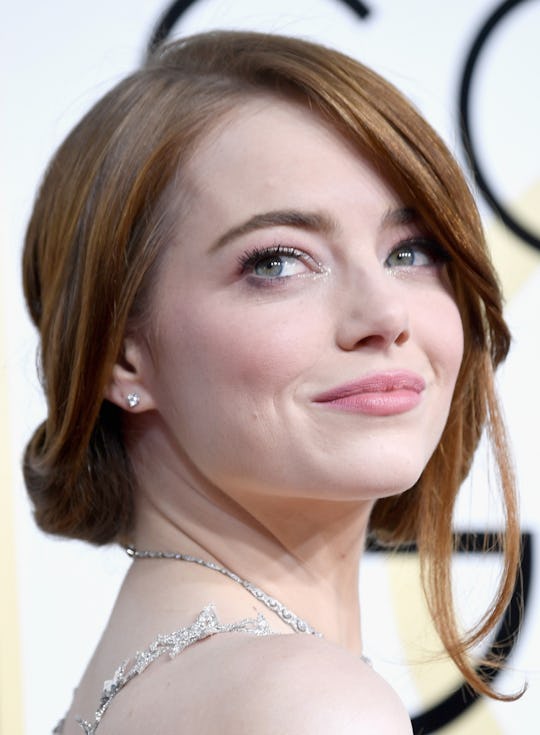 Frazer Harrison/Getty Images Entertainment/Getty Images
This Awkward Golden Globe Hug Will Give You Life
Celebrities are known for enjoying most (if not all) of their publicly awkward and sometimes embarrassing moments at the Golden Globe Awards. Although Jennifer Lawrence is still the reigning champ of memorable Golden Globe moments, Emma Stone's awkward hug with La La Land director at the Golden Globes definitely takes the cake (at least this year, that is).
All anyone could talk about going into the Golden Globes was La La Land, which is reasonable since it was the most nominated film of the night. Expected to walk away with most (if not all) of the awards the film was nominated for, no one was really surprised when the film won for Best Screenplay, which was written by Damien Chazelle and who also won the Golden Globe for directing the film.
Although we all expected Chazelle to walk away with at least one award for the film, it didn't make the cast any less excited when he did win. When Chazelle went to get his award, Stone couldn't wait to give him hug. The problem? Neither could his wife who was standing on the opposite side of him. While Stone went in to give Chazelle a kiss on the cheek, he turned the other way to give his wifen a kiss on the cheek, instead.
Everyone involved was apologetic about the whole thing while Stone's co-star, Ryan Gosling, stood by in the background cheering. The greatest moment however, was Stone's face when she turned away towards the camera. Her face was the face I tend to make when I start waving back to someone and quickly realize they were waving to someone else: pure awkwardness.
When it comes to the Golden Globes, I tend to always look for Lawrence to bring the funny. She's become a bit well known for her mishaps at the award ceremony as well as her very candid interviews and funny facial reactions that make perfect GIFs.
However, Stone definitely made up for Lawrence's absence, whether she meant to or not. Stone, who is also nominated this year for her role in La La Land, is also one of my favorite actresses and she just reminded me why. It's always great to be reminded that celebs are just like us, having awkward moments that we wish we could erase. Unfortunately for Stone, her awkward moment was caught on tape and there's no doubt people will be rewatching it for days to come.