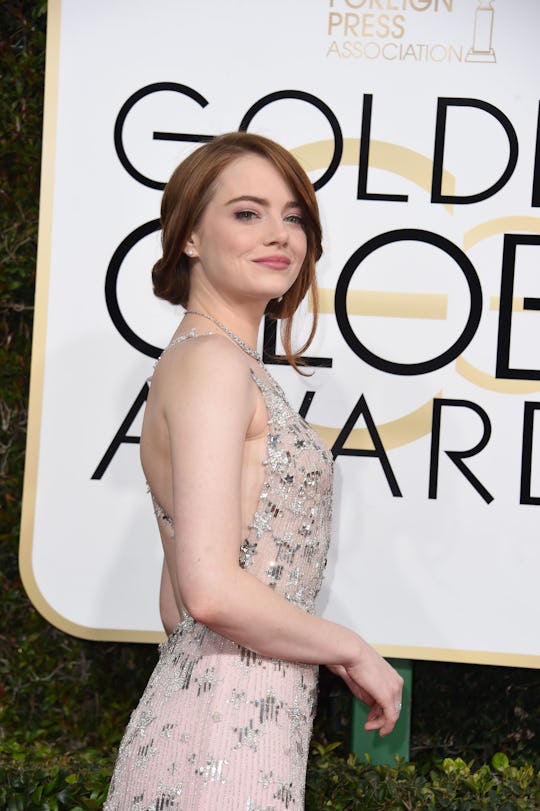 VALERIE MACON/AFP/Getty Images
Emma Stone Had The Best Red Carpet Answer Ever
There is perhaps no question more groan-inducing and eye roll-worthy than the eternal red carpet gem, "What are you wearing?" The reasons why this question is, for lack of a better term, stupid, are well-documented: it reduces accomplished performers to little more than their fashion choices, plus the question is almost never directed at men. The question has prompted so much criticism from feminists and pop culture aficionados that it's even inspired its own hashtag, #AskHerMore, to encourage entertainment reporters to look beyond nominees' sartorial choices and ask them more compelling questions on the red carpet.
On Sunday night at the 2017 Golden Globe Awards pre-show red carpet, actress and Best Actress in a musical or comedy motion picture winner Emma Stone was pumped and primed for this question. Clad in a Grecian-inspired, old Hollywood pale-pink gown dotted with tiny, ethereal-looking silver stars, Stone looked every inch the aspiring Hollywood starlet she plays in La La Land, which won seven Golden Globe awards.
When E! red carpet host Ryan Seacrest asked her what she was wearing, she responded in quite possibly the most epic way possible: "It's pink and there are stars on it," she told Seacrest. (She's actually wearing Valentino, but your point is well-taken, Emma.)
It's possible that Stone wasn't trying to make a statement on the red carpet with her witty retort, and that she simply wanted her gorgeous gown to speak for itself. (Although it is worth noting that she's taken a stand against industry double standards before, most notably in a 2012 Teen Vogue interview, when she pointed out that her former boyfriend Andrew Garfield doesn't field questions about his physical appearance because "it's sexism.")
Regardless of her intentions, however, everyone could agree that Stone looked stunning in her gown, which was clearly inspired by her turn in the whimsical movie musical:
Stone wasn't the only Hollywood actress to be nominated at the 2017 Golden Globes to clap back at the infernal "who are you wearing" question. Westworld actress and Best actress in a drama TV series nominee Evan Rachel Wood made a similarly strong red carpet statement by donning a pantsuit to the ceremony, which she said was a nod to the movie musical Victor/Victoria.
"I'm not trying to protest dresses," Wood told Seacrest. "But I wanted to make sure young girls and women know that it's not a requirement." She also added, "You don't have to wear one if you don't want to. Just be yourself because you're worth more than that."
Congratulations to all of the Golden Globes nominees — and congratulations to Emma Stone for clapping back against sexist, reductive questioning on the red carpet in the cutest, coolest way possible.