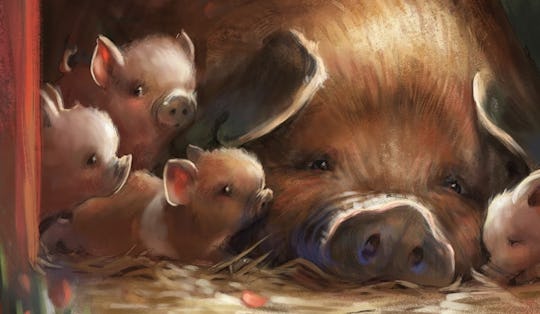 Courtesy of Macmillan
This Storybook Pig Based On A Real-Life Sow Will Steal Your Heart — See The Cover First Here
What is it about pigs that just tug at the heartstrings? Have you ever rooted for a character as much as Wilbur from Charlotte's Web? Or Babe from the eponymous novel and movie? Well, it's time to meet your latest pig best friend in Emma, a real life pig poised to star on the big screen and in print. Romper has the exclusive details on Saving Emma The Pig by John Chester, a picture book about Emma's story of survival and the caretaker who made it all possible.
Filmmaker, farmer, and soon-to-be author John Chester owns and operates Apricot Lane Farms in Southern California. Long before embarking on his agricultural adventure, Chester was traveling the world as a documentarian, capturing subjects from wildlife to rockstars. His latest labor of love, The Biggest Little Farm, is his most personal film to date, in which he documents the eight years he spent transforming 214 acres of depleted farmland to a working, thriving, biodynamic and sustainable orchard and livestock operation. The documentary premiered recently at the Toronto International Film Festival, where it was the second-runner-up for the People's Choice Award, and it will be released widely in the spring of 2019.
The most heart-wrenching tale from Chester's agricultural adventure is that of Emma, a pig and mother. When Emma first arrived at the farm, she was frail, ill, and pregnant, and after delivering 17 piglets, she almost didn't survive. Luckily, Emma had Chester on her side, who did everything he could to save her. He tells Romper how hard Emma fought to survive, and says he believes her strength came from her desire to be there for her piglets. Chester fell in love with Emma as he nursed her back to health, saying that she is "the world's most gentle creature I have ever come to know and love."
Emma became the heart and soul of Chester's documentary, and he's excited he's getting to tell her story in print as well as in film: "Saving Emma The Pig is the perfect kick off to coincide with the theatrical release of The Biggest Little Farm documentary," he tells Romper. "It was her real life story that inspired both the book and the feature film. I can't wait for everyone to meet her gentle spirit!"
The story covers everything about Emma's life on Apricot Lane Farms, from her struggle to live to her adventures with her new best friend, a rooster named Greasy, and is packed with heart and tons of fun that all young readers will adore.
The book is set to publish from Feiwel and Friends/Macmillan in May, 2019 to coincide with the wider release of the film, so you'll have to wait a little bit before you can bring it home. But to tide you over, we've got the exclusive first look at this book's gorgeous cover. Take a peek at this lovable pig and her babies.
Talk about putting the pig back in poignant.
Chester says the cover perfectly captures the essence of his beloved pig, telling Romper, "The real Emma the pig will be pleased" after checking out the illustration. So get excited for a book that'll be chock full of adorable pictures like this one, and make sure to check out The Biggest Little Farm when it comes out too. And make room in your heart for another wonderful pig to root for and love.
This first-time mom wants to have a home birth, but is she ready? Watch how a doula supports a military mom who's determined to have a home birth in Episode One of Romper's Doula Diaries, Season Two, below. Visit Bustle Digital Group's YouTube page for the next three episodes, launching every Monday starting November 26.