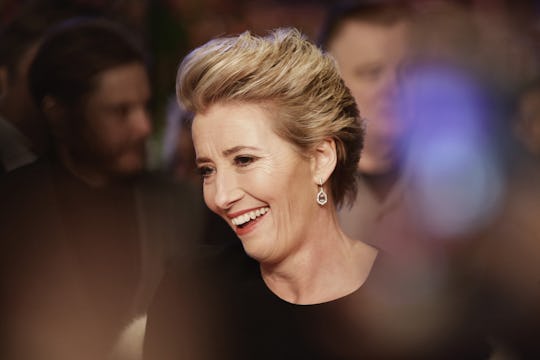 Vittorio Zunino Celotto/Getty Images Entertainment/Getty Images
Emma Thompson Has No Time For Your Body Shaming
There are a million reasons to love Emma Thompson, from the fact that she can play anything from a Shakespearean heroine to a teapot, to her recent claim that she once turned down a date with President Donald Trump. Now, we can kick that list up to a million and one, because Emma Thompson once defended a co-star who had been asked to lose weight and fought back against Hollywood's unrealistic expectations, all in one go. Yes, it's official. She is feminist royalty.
On a recent talk show appearance on the Swedish show Skavlan, Thompson and a fellow guest got into a discussion about the pressure Hollywood puts on actresses to be stick-thin, despite the health hazards. Thompson mentioned that, when she was working on Brideshead Revisited in 2008, producers asked her fellow actress, Hayley Atwell, to lose weight. "And she was absolutely exquisite!" Thompson said, continuing,
I said to them, "If you speak to her about this again, on any level, I will leave this picture. You are never to do that." It's evil what's happening and what's going on there, and it's getting worse... The anorexia—there's so many kids, girls and boys now, and actresses who are very, very thin into their 30s, who simply don't eat. They don't eat ... Sometimes there are just some subjects that you absolutely have to make noise about because it's so tedious and it's gone on and on.
Back in 2008, Atwell actually confirmed Thompson's weight loss story from her end, telling First Post, "I went round to Emma's one night and she was getting very angry that I wasn't eating all the food she was giving me. I told her why and she hit the roof." (Can we all agree right about now that going round to Emma Thompson's place and having her offer you tons of food sounds like a dream come true? She'd probably have the best stories, and give the most wonderful life advice.)
It's particularly cool to see an older, influential female celebrity using her clout to help younger, less-powerful actresses, who are more likely to feel that they can't push back against unhealthy demands for fear of being replaced. Apparently, though, Thompson has been sticking up for her female co-stars and speaking out against ridiculous weight loss demands since much earlier in her career. According to Kate Winslet, when the two women were filming Sense and Sensibility, and Winslet was not eating enough, Thompson told her, "If you ever lose weight, I will never ... talk to you again."
I'd hereby like to nominate Emma Thompson for Queen of the World, please.