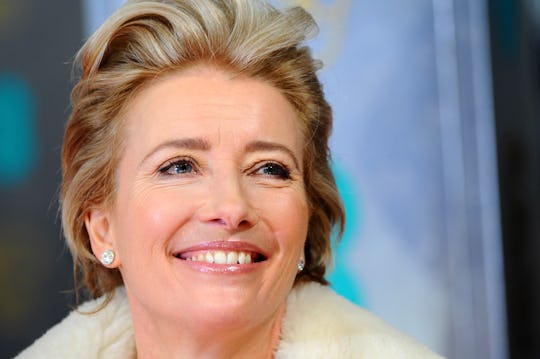 Anthony Harvey/Getty Images
Emma Thompson Reacts to Alan Rickman's Death & Breaks Our Hearts Just A Little Bit More
In a tragic statement on Thursday, the family of celebrated British actor Alan Rickman confirmed that he had passed away at the age of 69, after a battle with cancer. Immediately, news of the Die Hard and Harry Potter star's death began spreading across social media, with condolences from both fans and celebrities peppering Twitter and Facebook alike. Out of all the heartfelt messages making the rounds however, it was actress Emma Thompson's reaction to Rickman's death that hurt the most.
"Alan was my friend and so this is hard to write because I have just kissed him goodbye," Thompson wrote, in a statement released by her UK-based management agency. "What I remember most in this moment of painful leave-taking is his humour, intelligence, wisdom and kindness. His capacity to fell you with a look or lift you with a word."
Thompson continued, calling Rickman — who had worked with her on seven separate occasions — "the ultimate ally":
The intransigence which made him the great artist he was—his ineffable and cynical wit, the clarity with which he saw most things, including me, and the fact that he never spared me the view. I learned a lot from him.
He was the finest of actors and directors. I couldn't wait to see what he was going to do with his face next. I consider myself hugely privileged to have worked with him so many times and to have been directed by him.
He was the ultimate ally. In life, art and politics. I trusted him absolutely.
He was, above all things, a rare and unique human being and we shall not see his like again.
Over a span of 15 years, Thompson and Rickman worked closely across several projects, including Sense and Sensibility (1995), Judas Kiss (1998), Love Actually (2003), and the behemoth Harry Potter series. Their last film together was the BBC adapted television movie, The Song of Lunch, in 2010.
With her sweet message on Thursday, Thompson reminded everyone of the special bond shared by the two actors — both onscreen and off — and broke our hearts just a little bit more.
Images: Anthony Harvey/Getty Images