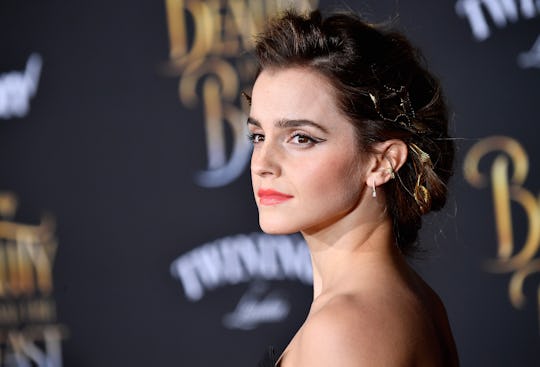 Frazer Harrison/Getty Images Entertainment/Getty Images
Don't Police Emma Watson's Feminism
Society has a nasty way of telling women exactly what they should and shouldn't be, holding them up to absurd double standards, and constantly seeking out ways to discredit them. So, kudos to Emma Watson, who recently argued that her Vanity Fair photoshoot didn't make her any less of a feminist — even when the Feminism Police came at her for asserting her bodily agency and artistic expression when she posed for the preeminent fashion magazine. As an internationally renowned movie star and noted advocate of gender equality, Watson was just the person to shut down the misguided, sometimes malicious critics and remind all of us exactly what feminism is supposed to be about.
"Feminism is about giving women choice," the British actress said in an interview with Reuters published Sunday, sounding baffled by the online backlash that a photo of her going braless underneath a open white bolero jacket had incurred. "Feminism is not a stick with which to beat other women.... It's about freedom, it's about liberation, it's about equality. I really don't know what my tits have to do with it. It's very confusing."
But Watson's partially exposed breasts — which appeared as part of the Vanity Fair cover story and accompanying photoshoot (where she was promoting her starring role in the upcoming live-action remake of the classic film Beauty and the Beast) — apparently had everything to do with it, her critics argued. And they couldn't wait to let her know.
British tabloid The Sun republished the photo from the magazine's March issue with the objectifying headline "Beauty & the breasts." Ripping off that image, radio personality Julia Hartley-Brewer added her own commentary, apparently mocking Watson for championing of feminist causes in her role as a U.N. Women Goodwill ambassador: "Feminism, feminism... gender wage gap... why oh why am I not taken seriously... feminism... oh, and here are my tits!" Hartley-Brewer wrote. Writing with a little more ambivalence, The Independent's Biba Kang cranked out a column questioning whether Watson had posed for the photo "because of the patriarchy or in spite of it" — failing to consider, apparently, that Watson is more than capable of making informed, responsible decisions about her own body.
But Watson was engaged and involved every step of the way, she told Reuters. "We'd been doing so many crazy things on that shoot but it felt incredibly artistic and I've been so creatively involved and engaged with [Vanity Fair photographer Tim Walker] and I'm so thrilled about how interesting and beautiful the photographs were."
More than questioning her autonomy, Watson's detractors also falsely asserted that feminism mandates strict criteria of how women need to look, dress, think, and act in order to be considered true advocates of gender equality. They see Watson's breasts in the pages of a magazine and think that the image somehow negates her work launching the U.N.'s HeForShe campaign, which aims to position women's issues as human issues by convincing all people to care about them.
The truth, in fact, is the opposite, as Watson told Reuters: Just as a major goal of feminism is to obliterate narrow views of what it means to be a woman, it's important to note that female feminists can express themselves in any way they want without losing their credibility because of an outsider's view of how feminists should be. After all, choosing to cover up is an act just as feminist as opting to bear your body, because the real feminist message, as Watson pointed out, is choice.