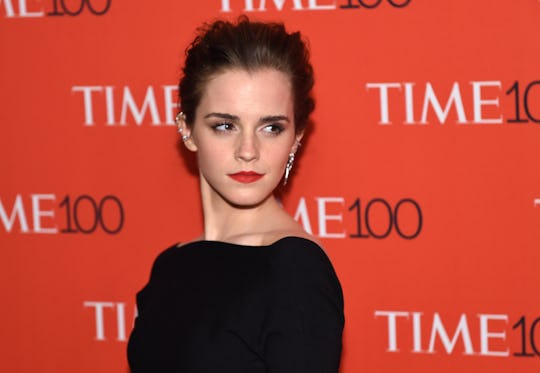 Emma Watson's Alan Rickman Tribute Didn't "Exploit" His Death & Here's Why
Beloved British actor Alan Rickman, who played Professor Severus Snape in the Harry Potter films, died of cancer Thursday, and those who worked with him left beautiful tributes for him all over the internet. On Friday, internet users attacked Harry Potter star Emma Watson for "exploiting" Rickman's death for her own feminist agenda. Watson had shared a photo of Rickman on Twitter with a quote from him that said "There's nothing wrong with a man being a feminist. I think it is to our mutual advantage." Many people seem to think it's wrong that Watson dropped the name of feminism — a cause she's been campaigning heavily on behalf of — on the day of Rickman's death, but those people need to chill out for a few good reasons.
First, people grieve in so many different ways, and it's not up to anyone else to judge something so intimate. But, second, remembering a friend — which Watson did all day on social media — through the moments and ideals that she shared with that friend is a personal way of remembering why you connected with them and what influence they brought to your life.
Everyone has friends that they can talk to about certain passions. I definitely don't talk about animal rights or feminism or writing with everyone I know, since it might bore some people with no interest in the topics (or alienate friends who don't agree with me). But when I can share something I'm passionate about with someone, it's a special connection that I share in a specific way with that person. Celebrating someone's forward-thinking ideals is another way to pay tribute to them, and that's exactly what Watson did.
The entire Harry Potter crew has been expressing its devastation over the actor's death since Thursday. After working together on eight films, I'd expect that Watson and Rickman would've known each other fairly well. And since they both have expressed feminist views in the past, I wouldn't doubt if Rickman helped a young Watson shape her feminist activism by being a great example of a man who identifies as a feminist. Watson's work with the United Nations' He For She movement — which includes men in feminism — is actually exemplified by Rickman's quote. How could it be wrong, in any sense, for Watson to pay homage to a man who perfectly embodied the beliefs she fights for on a daily basis? If he helped her shape her ideas — or her He For She campaign — at all, then sharing that with the world is a damn good way to pay tribute to Rickman. It is not a form of exploitation.
Here are some of the horrible tweets Watson received in response. They seem to show more of an aversion feminism than to Watson's selected quote.
Luckily, others were quick to stand up for Watson:
Rickman was known for speaking out in defense of feminism long before Watson quoted him about it. Speaking about feminism, he told Entertainment Weekly in June: "That word, it's such a label. I always think 'feminist' just means 'common sense.'" He also addressed sexism in Hollywood, and what he said was epic, according to Entertainment Weekly:
Do I live in a world and certainly in a business that is incredible unfair to women — yes, I do.
Kudos to Watson for sharing words from one of her heroes despite the backlash. Rickman certainly had a very open and honest approach to feminism. In the event of Jane Goodall's death, for example, you better believe that animal protection groups around the world would be celebrating her views and quoting her, and rightfully so.
Alan Rickman was an excellent actor — one who's portrayal outdid my expectations for Professor Snape and his complexities in Harry Potter — but he was far more than just an actor. Having Watson pay homage to one of the issues he spoke up for helps pay homage to him as a human, rather than simply as Snape — and that's just as it should be.
Image: Timothy A. Clary/AFP/Getty Images