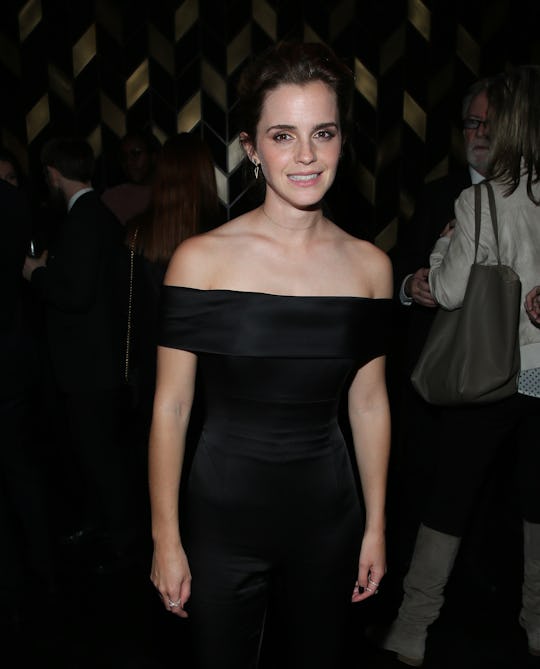 Rob Kim/Getty Images Entertainment/Getty Images
Emma Watson's Speech At The MTV Awards Was Empowering
This year the MTV Movie Awards not only included TV but also made the awards gender neutral. Therefore the first award of the night was simply for the Best Actor in film and TV and unsurprisingly Emma Watson walked away with the golden popcorn. However, more exciting than her win was Emma Watson's speech about gender at the MTV Movie & TV Awards.
Before Watson even began giving thanks for her win, she made sure to acknowledge the momentous occasion of winning the first gender neutral award. "The first acting award in history that doesn't separate nominees based on their sex says something about how we perceive the human experience," she said about the award. "MTV's move to create a genderless award for acting will mean something different to everyone. But to me it indicates that acting is about the ability to put yourself in someone else's shoes and that doesn't need to be separated into two different categories."
Watson also took the time to shout out non-binary gender actor Asia Kate Dillon who presented the award. Watson thanked Dillon for educating her in an "inclusive and loving" way, before giving the actor another quick hug onstage. Watson, who received the award for her role as Belle in the live-action remake of Beauty and the Beast, then went on to acknowledge that while she hopes she won the award because of her acting capabilities, she also doesn't believe that's the case.
Instead she credited the character that she played as the real reason for her win. "I think I'm being given this award because of who Belle is and what she represents," she said. "The villagers in our fairytale wanted to make Belle believe the world was smaller than the way that she saw it, with fewer opportunities for her... I love playing someone who didn't listen to any of that."
Watson went on to say that she's proud to be a part of a film that celebrated "diversity and literacy," and thanked the creators of the original film as well as Paige O'Hara who played Belle in the original film. She also, of course, thanked all the fans who voted for her and gave a shout out to the other extremely talented nominees in her category, including Taraji P. Henson (Hidden Figures), Hailee Steinfeld (The Edge of Seventeen), and Daniel Kaluuya (Get Out).
Besides Best Actor, Watson is also up for the Best Kiss award alongside her costar Dan Stevens and Beauty and the Beast is up for Best Movie of the Year.