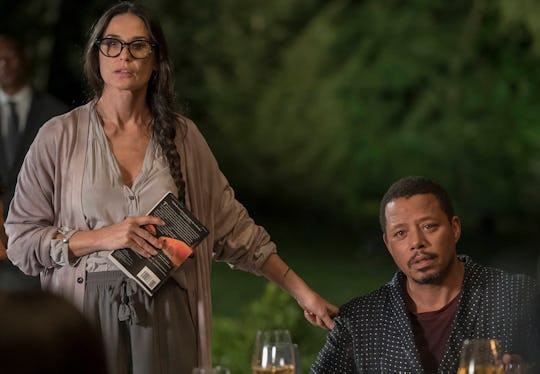 Chuck Hodes/FOX
Fans Can Expect To See Less 'Empire' Guest Stars In Season 4
Empire continues to appeal to millions of viewers for a number of reasons. One, the soap opera drama is just too good to miss every week — and producers know just where to put those cliffhangers. Two, the songs are actually good (yes, even "Drip Drop," I'll die on that hill), unlike a lot of other songs written for TV shows. Three, the guest stars. Each season, Empire has a lineup of A-listers to enter the Lyon family's world. However, it turns out that Empire Season 4 guest stars won't overshadow the main characters for this latest installment, but they'll be fun to watch regardless.
Season 3's guest stars were, in my opinion, the best yet. There was Rumer Willis playing Tory Ash, an Amy Winehouse-like singer getting out of rehab. Willis actually sang on Tory's tracks like the bluesy "Crazy Crazy 4 U." Nia Long appeared as the cutthroat nightclub owner Giuliana, who actually had a past with Lucious that (of course) caused some drama between him and Cookie. My favorite, though, may have been Phylicia Rashad as Angelo's mother, Diana. She was the mastermind behind kidnapping Anika and Hakeem's baby, Bella. But in the final scene of the season, Empire introduced a prominent guest star, who would play a bigger role in Season 4: Demi Moore as Lucious' nurse. So fans can expect her to become a prominent figure in Lucious' life.
So what other guest stars can the audience look forward to this season? One thing is for certain: the roster won't be as stacked as it was in previous years. Executive producers told Variety that they're reducing the number of guest stars this season to focus more on the Lyons themselves. "When we start to focus too much on guest stars we lose who it is that the fans want to watch," producer Lee Daniels said. "They're obsessed with the Lyons. They're obsessed with family. They're obsessed with the story of Lucious and Cookie and Jamal and Andre and Hakeem." The Empire crew pays attention to what viewers say, and the viewers care about the Lyons above all.
According to the producers, a big theme of this season is what happens with Lucious and how it affects his relationship with his family. Despite the refocus on the Lyons, there will still be heavy-hitters in guest roles. In addition to Demi Moore, Forest Whittaker will be on the show. He plays Uncle Eddie, a musician who mentored Lucious when he was getting his start. Whittaker's role is especially important to Terrence Howard, because it's sort of art imitating his life.
"Forest has been a mentor to me in my own personal life," Howard told Variety. "The role I played in Crash was originally Forest's role, and Forest had stepped out to do his directorial debut and recommended me for that character. So for Forest to play a mentor for Lucious [is extra special]." Another exciting guest star this season is Queen Latifah, and her appearance will also be special: it's a crossover episode with Star. Remember crossover episodes from the '90s? Empire is bringing it back with Latifah's Carlotta appearing on the show. Carlotta is the manager of Star's musical trio, and she's coming to Empire Records to further their career. Additionally, Jussie Smollett will appear as Jamal on an episode of Star.
Other favorite guest stars, like Taye Diggs and Phylicia Rashad (yes!) will be returning this season as well. For the most part, though, the producers are committed to telling the stories of the Lyon family. It seems that most of the stars will be there to bolster Lucious: Moore's caregiver will nurse him back to health, while Whittaker's Uncle Eddie will shine light on Lucious' past and help him out in the present. I'm excited to see both the A-list guest appearances as well as the refocus on the Lyons and their stories this season.
Watch Romper's new video series, Romper's Doula Diaries:
Check out the entire Romper's Doula Diaries series and other videos on Facebook and the Bustle app across Apple TV, Roku, and Amazon Fire TV.