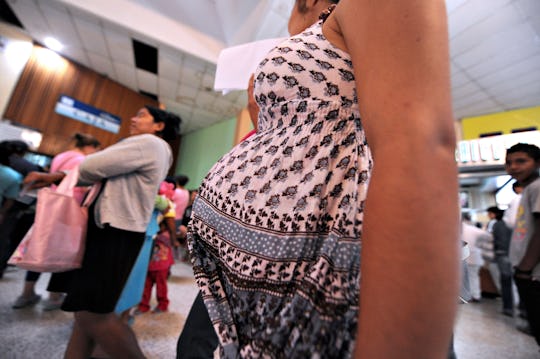 ORLANDO SIERRA/AFP/Getty Images
England Issues Florida Zika Travel Advisory For Pregnant Women Following Miami Cases
Health officials have warned Americans for more than a year to avoid travel to regions where the Zika virus posed a serious threat. Now, as the mosquito-transmitted virus steadily made its way into the United States, England issued a Zika travel advisory and have advised pregnant women to delay any nonessential travel to Florida following cases of local transmission of the virus that were discovered in Miami. Zika is very dangerous for expecting moms as it can cause devastating birth defects, such as microcephaly, or unusual small heads, and underdeveloped brains.
On Friday, July 29, England's Department of Health — Public Health England — updated the classification of the risk of traveling to Florida from "low" to "moderate" after a Zika outbreak was confirmed in the southern state.
"The risk in Florida is considered moderate based on the number and spread of cases and their demonstrated ability to implement effective control measures for similar diseases such as dengue – a virus transmitted by the same mosquito," according to the health agency's public guidance. "Pregnant women should consider postponing non-essential travel to affected areas until after the pregnancy. At present, only a zone of about 1 square mile in Miami-Dade County is considered at risk of active transmission."
On Friday, Florida Gov. Rick Scott confirmed the Zika outbreak that prompted England's travel advisory. The unfortunate news marked the first time that the virus was found to have been transmitted within the continental United States by a mosquito bite, which has infected at least four people — three men and one woman.
"This means Florida has become the first state in our nation to have local transmission of the Zika virus," Gov. Scott told reporters during a press conference on Friday. "We're being very aggressive at testing people there we are testing the mosquitoes there and we spraying to make sure it's contained."
He later added, "This is not just a Florida issue. This is a U.S. issue it is a national issue. We're just the front of it."
According to the Centers of Disease Control and Prevention, more than 1,650 people have been infected with Zika in the United States. While a small percentage of the cases were transmitted sexually, the majority of people became contracted the virus while traveling abroad, warranting the alarm for the recent cases in Florida.
Health officials have warned state departments and residents for months that there was a high possibility of a local outbreak in the United States. Although a dangerous outbreak in the middle of summer can cause worry and distress for travelers and residents of the Sunshine State, it's comforting that health experts around the world are working tirelessly to spread awareness in hopes to prevent further cases of Zika as they continue to research more ways to halt any future outbreaks.