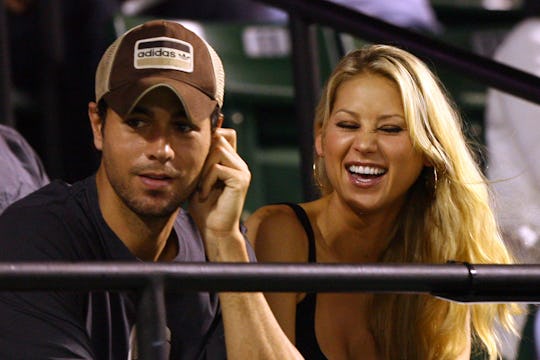 Al Bello/Getty Images Sport/Getty Images
The First Photos Of Enrique Iglesias & Anna Kournikova's Twins Are Here & They're Adorable
It's a celebrity baby boom this winter indeed! Happy couples everywhere are officially welcoming babies to the world and it's honestly so exciting. And now, after welcoming their bundles of joy last month, Enrique Iglesias and Anna Kournikova shared the first photos of their twins, and it's like the world has been twice blessed with cuteness.
Yes, the couple has been rumored to have had their twins back in December, but their latest posts are the first pieces of confirmation of the happy news. According to TMZ, the couple is incredibly private and before Kournikova gave birth, no one even knew that she was even pregnant. As TMZ reported last month:
Sources in Miami tell us Anna had a boy and a girl Saturday in Miami, and their names are Nicholas and Lucy. The only thing overshadowing the blessed occasion is the fact they kept this whole thing a secret for 9 months.
The couple really does a great job of keeping to themselves, and that's awesome. Considering the fact that they both have had pretty high-profile careers, it makes sense that they would want to stay a little under-the-radar now that they're starting a family. Iglesias and Kournikova have been together since 2001, according to E! News, and they're both masters at being private, a skill that will definitely come in handy now that they're parents.
According to People, neither Iglesias nor Kournikova has released a comment or had a representative respond to a request for comment, as they maintain their privacy that they're ever-so famous for. Seriously, the 42-year-old singer and 36-year-old tennis star have been dating for 16 years, and have managed to barely reveal anything too personal about themselves. As E! News reported:
The two met on the singer's "Escape" music video and quickly started dating. The former tennis star was 20 and Iglesias was 26 years old. Fast forward to present day, and the two live a seemingly quiet life on a private island in Miami Beach.
I mean, the couple managed to literally hide a pregnancy for nine whole months, so it's actually pretty amazing that they even decided to share the photos that they did with the world.
It makes sense that they would want to have a low-key relationship, considering that they got started so publicly, as E! News explained:
For such a private couple that they are, it's ironic that their first moments together and even their first kiss was caught on camera by MTV's Making of the Video which was on the set of "Escape" where Anna played the singer's love interest.
Currently, the couple rarely even share photos of themselves together, so their decision to each put such a vivid, personal photo of their little ones out there is kind of unexpected. But honestly, their respective photos of their twins are totally adorable, and their fans are likely grateful for this small glimpse into their extraordinary lives.
Clearly, Iglesias and Kournikova are totally ready to be parents, as they've been dog parents for quite some time now. In fact, Kournikova is such a dedicated dog mom that about 90 percent of her Instagram photos feature at least one of their dogs. And Iglesias has also talked about his own little fur family before. According to E! News, "A day off for me is being at home on the sofa, watching TV with my girlfriend and our two pets—just having a good time," the singer told Ventaneando last November. "Really just enjoying the day and relaxing and watching House of Cards."
And now that the happy couple is growing their family by two sweet babies, they'll probably be spending even more time relaxing at home, which seems to be what they really love.
Check out Romper's new video series, Romper's Doula Diaries:
Watch full episodes of Romper's Doula Diaries on Facebook Watch.