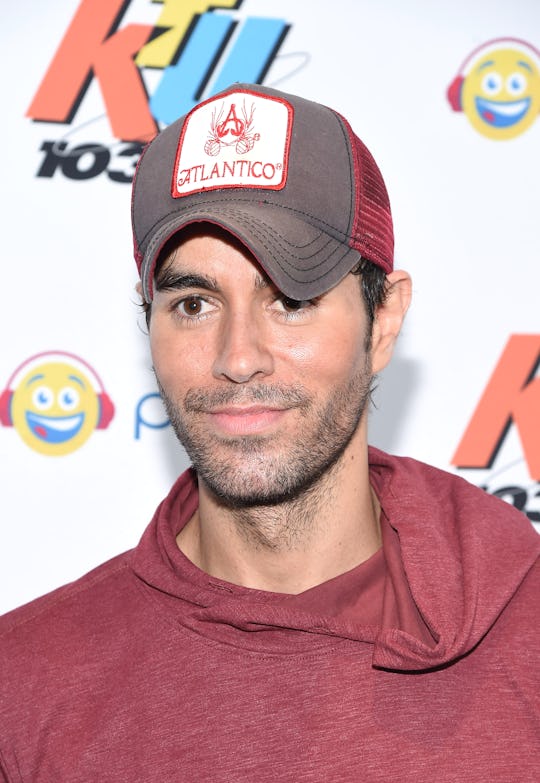 Gary Gershoff/Getty Images Entertainment/Getty Images
Enrique Iglesias Is In Peak Dad Mode Making His Twin Babies Laugh In This Adorable New Video
There are many different genres of celeb dad. There are feminist dads like Dwayne "The Rock" Johnson, jokester dads like Ryan Reynolds, and then there is Enrique Igelsias in peak dad mode making his twin babies laugh. In a new Instagram video, the musician is seen running around his backyard entertaining his son and daughter.
PopSugar reported on Thursday that the dad of two has truly taken his stage experience and put it to good use by running manically around his twins while they sit in their connecting strollers. However, the cutest moment of the entire video was toward the end, when Iglesias stopped for a minute and the camera zooms in on one of the babies about to cry. "You're so cute! Bless you & your family!" one fan wrote. "Wow those babies are so happy," said another.
Last December, TMZ reported that, after a very private pregnancy, Igelsias and his wife Anna Kournikova welcomed twin babies, a son and a daughter named Lucy and Nicholas. Back in 2011, Kournikova told Women's Health that though she didn't care much whether or not she married long-term boyfriend Iglesias (she eventually did) but she did want to have kids. "I absolutely want to have children, whether I have my own or adopt," she said. "[Marriage] isn't important to me. I'm in a happy relationship, that's all that matters. I believe in commitment. I believe in being open and trusting each other and respecting each other completely."
Though Iglesias, like his wife, has been distinctly tight-lipped when it comes to speaking on matters of his family and home life, he did an interview with 1035 KTU about what it's like to be a father of twins.
"A lot of people ask me, it's so tough. Their mom is the real superhero. My first time was twins so I don't really know the difference," he said. When asked what type of father he hopes to be, according to 1035 KTU, he continued: "I don't know. Hopefully, a good father and raise them properly. Everybody raises their children the way they want."
Despite being private about their personal lives, it's no secret that Iglesias absolutely loves being a father. Access reported that during a concert in Budapest, he confessed to the audience that he is not only super in love with his family, but that he's also so grateful to his fans for sticking by him and showing up. "I became a father 12 weeks ago and I can absolutely tell you two things: I love my babies! I love them very much," he said in the middle of his show, according to Page Six. "Actually three things. I love my girl and I super f—king love you guys for being here tonight. This is for your loyalty."
In January of this year, he told Hello! Magazine that, though he isn't convinced marriage is required to be happy, he's at peace with where he is in life. "I've never really thought marriage would make a difference. Maybe it's because I come from divorced parents, but I don't think you love someone more because of a piece of paper," he told the publication. "And nowadays it's not taboo to have kids and not be married. What makes a difference is that you're a good parent."
And a good parent he definitely is.