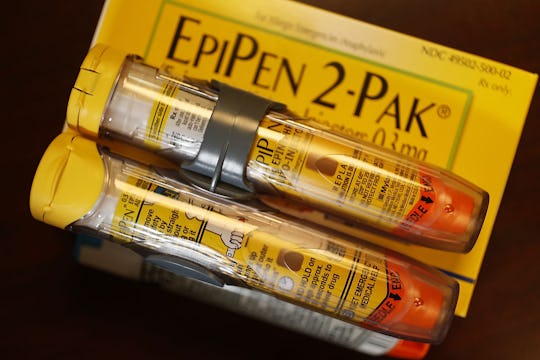 Joe Raedle/Getty Images News/Getty Images
EpiPen Prices Have Gone Up Again, New Report Finds
Despite widespread criticism over previous price hikes, EpiPen prices have gone up over the last year, according to a new report from GoodRx, which tracks drug prices. The epinephrine auto-injector, which is used to treat anaphylaxis, cost about $100 for a two-pack when drug manufacturer Mylan first acquired the rights to it in 2007, according to the New York Times. That price rose to just over $600 in 2016, prompting public outcry and a lawsuit from the U.S. Justice Department that was only just settled last month, according to Reuters.
After the story broke, former Secretary of State Hillary Clinton called the EpiPen price hike "outrageous" and a "troubling example of a company taking advantage of its consumers." Parents of children with severe allergies called the rising cost of EpiPens "ridiculous" and "terrifying," according to the New York Post, and one mom remarked, "I hate thinking of other allergy moms who might not be able to afford the medication having to pick and choose where they keep their EpiPens." Despite the initial backlash, though, Americans are now paying as much as 25 percent more for EpiPens, for a total cost of about $750 for a two-pack, according to the prescription savings website GoodRx. A representative for Mylan told Romper that "the wholesale acquisition cost (WAC) of EpiPen® Auto-Injector has not increased in 2017," and remains $608.
In response to last summer's backlash, Mylan issued a press release blaming the Affordable Care Act for high drug prices, and touted a savings card that would defray up to half the cost of EpiPens. According to the Washington Post, most patients aren't eligible for the program. In December, the company announced it would authorize a generic auto-injector priced at $300.
In January 2017, CVS announced it would carry a generic version of a competing auto-injector, Adrenaclick, that would cost $109.99, although most customers would be able to apply a $100 manufacturer's coupon to that price, according to USA Today.
A spokesperson for Mylan told Romper that its generic auto-injector "further enhanced competition and access for patients," and that Adrenaclick was not "therapeutically equivalent." The spokesperson wrote in an email at the time:
EpiPen Auto-Injector has been the most prescribed epinephrine auto-injector in the U.S. for more than 25 years, and many patients, caregivers and school nurses are already familiar with EpiPen Auto-Injector. We are pleased that our authorized generic product is available to patients everywhere because every patient who needs an EpiPen Auto-Injector should have access to one.
It's important to note that EpiPen Auto-Injector (and it's authorized generic) and Adrenaclick (and it's authorized generic) are two different products, and Adrenaclick is not considered therapeutically equivalent to EpiPen Auto-Injector by FDA.
According to CBS News, the CVS generic contains the same medicine as EpiPen (as well as Mylan's generic version), and it is FDA approved for the same use. The reason it's not considered a generic equivalent to EpiPen is because the injector design is different. Dr. Ronn Berrol, Medical Director of the Alta Bates Summit Medical Center Emergency Department in Oakland, told CBS that the reason more doctors don't prescribe generics is because the brand name "EpiPen" has become synonymous with "epinephrine auto injector," just like how "Kleenex" is used to refer to any and all facial tissues. The trouble is that prescriptions have to be filled exactly as written. Now that prices have risen once again, some patients may finally be forced to make the switch.