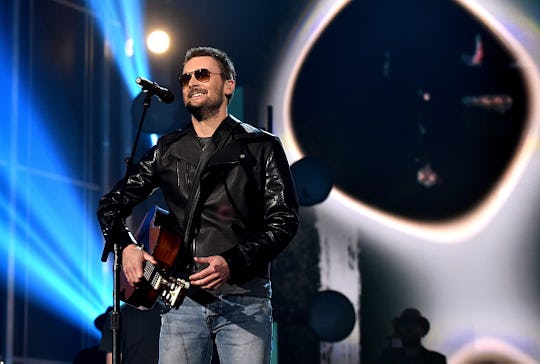 Kevin Winter/Getty
Eric Church's Tribute To Scott Weiland & David Bowie At The ACM Awards Was Equal Parts Touching & Energetic
It was a touching performance on Sunday at the ACM Awards when Eric Church performed a tribute to some of the musical legends who passed this year, including David Bowie, Glenn Frey of The Eagles, Lemmy Kilmister of Motorhead, and Scott Weiland, the lead singer of Stone Temple Pilots and Velvet Revolver.
Many awards shows feature tributes of some kind for some of the important figures in the arena who have recently passed away, usually with a sort of somber slideshow or emotional musical number. Church's tribute, by contrast, was energetic and loud, though no less heartfelt. In fact, it could even be said that Church did a better job of really capturing the essence of these late icons with his performance. Though he is wholly a country music performer, he proved that his musical talent extends way beyond the genre, belting out the non-Nashville tunes with soul and a lot of respect for the lost legends.
Plus, Keith Urban certainly seemed to enjoy it.
The country crooner, described by Spin as "one of country music's biggest and/or baddest superstars," performed a medley of hits from Bowie, Frey, Lemmy, and Weiland, with the help of a DJ playing the songs on vinyl behind him, in front of a large backdrop of photos of the deceased musical heroes.
Twitter reactions began immediately pouring in, many describing Church's tribute in honor of these artists to be the best part of the show, if not the best tributes yet made. The Grand Ole Opry called it "perfect" and former Bachelor Chris Soules tweeted that Church "killed it."
Here's what they said:
Perhaps the most entertaining reaction to the performance was from fellow country star and husband to the lovely Nicole Kidman, Keith Urban, with his awesome, dad-like, head-bopping.
Eric Church is having a pretty great year. Before the awards even started, he took home the award for Best Video of the Year, for his song, "Mr. Misunderstood," though he lost Album of the Year to Chris Stapleton. He and Stapleton were both up for the most ACM Awards nominations of the year, with a healthy five nominations each.
Church's nominations include his third for Male Vocalist of the Year, and his first nomination for Entertainer of the Year. But it was his tribute that fans will be talking about in the days and weeks to come, and that's a really, really great thing.