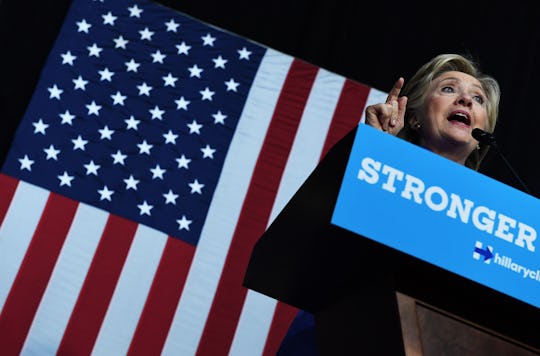 JEWEL SAMAD/AFP/Getty Images
Eric Holder Explains Why James Comey's Clinton Email Letter Was A "Serious Error"
With just over one week to go until Election Day, and millions of votes already cast, the news that FBI Director James Comey had written to Congress Friday to say that the agency was investigating a new collection of emails linked to Democratic presidential nominee Hillary Clinton was a bombshell for both Democrats and Republicans alike. On Sunday, Former Attorney General Eric Holder wrote an op-ed in The Washington Post criticizing Comey for his actions, particularly so close to the election, and accused him of breaching protocol. In the piece, Eric Holder explained why James Comey's Clinton e-mail letter was a "serious error" that could have huge — and potentially extremely unfair — implications for the presidential election.
In his piece, Holder wrote that, in his position as FBI director, Comey "violated long-standing Justice Department policies and tradition" by sending "a vague letter to Congress about emails potentially connected to a matter of public, and political, interest." The FBI, Holder argued, rarely comments — or even acknowledges — investigations that are open and ongoing, and is supposed to avoid any action that could affect the outcome of an election, especially this close to Election Day. And while Holder emphasized that he didn't actually think Comey made these errors on purpose, he wrote that he may have "unintentionally and negatively affected public trust in both the Justice Department and the FBI," and that, by not, at the very least, being more specific about the investigation once he'd already brought it up, Comey "allowed ... misinformation to be spread by partisans with less pure intentions" than himself. (The FBI did not immediately return Romper's request for comment about Holder's claims.)
According to CNN, the new set of emails, which belong to Clinton aide Huma Abedin, had actually been discovered weeks ago, after a number of computers were seized in relation to the inquiry into Abedin's estranged husband, Anthony Weiner. Once Abedin's emails were discovered, investigators realized they could potentially be relevant to the FBI's previous probe into Clinton, which was closed in July. The problem though, is that, since Abedin's emails fell outside of the scope of the search warrant into the Weiner case, investigators weren't able to thoroughly review them, and still aren't yet sure whether the emails might be duplicates of those already reviewed, or whether the new emails contain new information.
But by making the new investigation public before the FBI had even had a chance to properly review the emails, Holder argued it left the public open to "a torrent of conspiracy theories and misrepresentations" about what the emails might contain. That would be concerning in general, but this close to an immensely high-stakes election? The fallout could be devastating.
Holder is certainly not the only one pointing that out, though. According to NBC News, Senate Minority Leader Harry Reid has accused Comey of "using his official authority to influence an election," which is against federal law, and claimed that Comey's actions were "a clear intent to aid one political party over another." Reid also alleged that the FBI has information about ties between Republican presidential nominee Donald Trump's relationship with the Russian government that it is withholding from the public, evidencing what he considered to be "a disturbing double standard."
Democratic congressman Steve Cohen also took Comey to task in a statement released Sunday night, according to The Guardian, and called on Comey to resign. Cohen argued that that Comey's actions were, "plainly premature, careless and unprecedented in its potential impact upon a presidential election," and added that Comey released the letter publicly "without a speck of information regarding the emails in question, their validity, substance or relevance."
According to The Guardian, Comey reportedly sent the letter to Congress "against the advice of top justice department officials," including the attorney general. And even Comey himself admitted in the letter that he wasn't yet sure if the emails were significant.
Unsurprisingly, the Trump campaign has jumped on the news as a way to close the gap between Trump and Clinton in the polls as of late — and it appears to be working. According to The Independent, Trump is seeing greater support among voters in Florida, which is a crucial state for Trump if he is to win the election. At a rally in Las Vegas on Sunday, Trump told the crowd, "We never thought we were going to say thank you to Anthony Weiner," and took the opportunity to hammer home his talking point about Clinton's corruption:
Corruption is corrosive to the soul of a democracy, and it must be stopped. We have one ultimate check on Hillary's corruption, and that is the power of voting. The only way to beat the corruption is to show up and vote by the tens of millions, including millions of people voting for the first time in their entire lives.
The news may not be entirely bad for Clinton though. Some experts have speculated that, unless new, confirmed information comes to light that is particularly damaging to Clinton, it's possible that Comey's letter may, in fact, help the Democratic nominee win the election by encouraging greater turnout. Xenia Wickett, head of the US and the Americas Program at London-based think tank Chatham House, told CNBC Monday that while Trump voters are "very enthusiastic about Trump" and will certainly come out to vote in his favor, Clinton voters may have needed the extra push:
Clinton voters are often not so enthusiastic about her, so if people see the polls are cloning closer together the level of complacency that many hold will be removed and lots of people will therefore come out for Clinton that otherwise might not.
Even if that does turn out to be the case, Clinton's camp certainly is not happy about the recent development. According to The New York Times, Clinton herself hit back at Comey during a rally in Daytona Beach, and said, "it's pretty strange to put something like that out with such little information right before an election. In fact, it's not just strange; it's unprecedented and it is deeply troubling." Clinton's campaign chairman, John Podesta, echoed that sentiment, telling reporters, that "by providing selective information, [Comey] has allowed partisans to distort and exaggerate to inflict maximum political damage," and added that he "has not been forthcoming with the facts."
At this point, the true effect of Comey's letter coming so close to the election likely won't be fully seen until after Nov. 8, when a winner is determined and the usual deconstruction of the results by pundits and analysts takes place. As for Comey, it is also still to be seen how he will respond the the backlash, and whether an investigation into the allegations that he himself broke the law will take place. Either way, it's unlikely that the timing of his letter could have possibly come at worse time for the Clinton campaign, and her team will no doubt be working hard to shore up as much support as possible in the next week to overcome the new criticism.