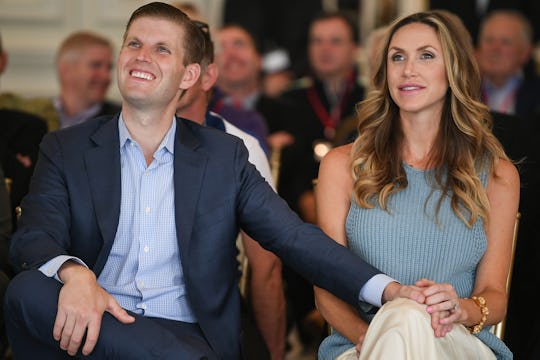 Jeff J Mitchell/Getty Images News/Getty Images
Eric & Lara Trump Welcome A Son Named Eric, & His First Photo Is Pretty Cute
It's official: President Donald Trump is a grandfather again. A Tweet posted to Eric Trump's Twitter this morning announced that Eric and Lara Trump have welcomed a son. The baby boy was born at 8:50 a.m., and his name is Eric "Luke" Trump.
New dad Eric shared the happy news— along with an up-close-and-personal photo of the newborn — with his 1.45 million Twitter followers shortly after noon. Little Eric is the couple's first child and President Trump's ninth grandchild; Donald Jr. and his wife Vanessa have five kids, while Ivanka and husband Jared Kushner have three.
Ivanka took to Twitter shortly after the announcement of her nephew's birth, writing, "Welcome to the world, baby boy. I can't wait to meet you." Big brother Don also congratulated the proud new father via Twitter, writing, "Congrats buddy. Welcome to the club. Now that the niceties are out of the way it's older brother revenge for that drum set to my kids."
And of course, our Tweeter in Chief chimed in with his well wishes: "Congratulations to Eric & Lara on the birth of their son, Eric 'Luke' Trump this morning!"
Eric, 33, and Lara, 34, dated for six years before tying the knot in 2014 at the Mar-a-Lago resort in Palm Beach, Florida. The couple learned they were expecting on Jan. 6, but they waited two months to officially announce the big news. "Eric's dad was so excited," Lara told People, "that we were worried he'd blurt it out at a press conference."
Back in June, Eric spoke out about the harsh comments directed toward his wife on social media, in response to President Trump's actions. It seems critics of both the Trump administration and the Trump family didn't hold back just because Lara was pregnant.
"My wife is seven months pregnant. If you saw some of the comments she receives from people. I can't even say them on the air they're so ghastly. ... There are no borders for these people," Eric told Fox News.
Lara also faced criticism in the final stretch of her pregnancy, after she posted a video of her exercising at nearly 10 months along. "Hoping the workout inspires this baby to make an appearance!!" the ready-to-pop-any-day mama captioned her apparently controversial video clip.
Whether or not you agree with the family's politics or business dealings, it's basically impossible to gaze upon that precious first photo and not go, "awwww!" I wish new parents Eric and Lara the best (and plenty of caffeine) as they embark on their parenthood journey.
"Eric's going to be an amazing dad," Lara told People back in March. "The nieces and nephews love hanging with him. He's the cool uncle. He's watched Frozen many times." Sorry to break it to you, Eric: You'll be stuck watching Frozen for years to come.