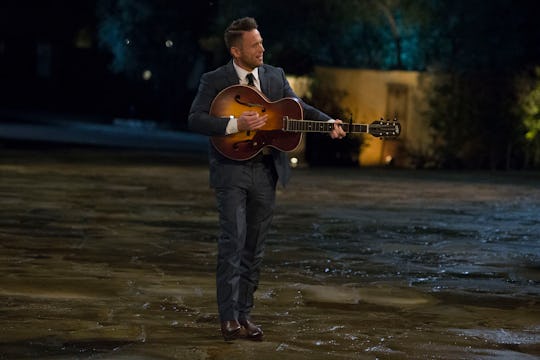 Paul Hebert/ABC
Eric & Lee Aren't Getting Along On 'The Bachelorette'
There's one in every Bachelor and Bachelorette season: the villain. Last season's "bad guy," Corinne, was relatively harmless. She complained about group date activities and missed her cheese pasta, yes, but was pretty tame. This season, though, there seem to be a few villainous contestants roaming around the Bachelor Mansion, and now that Blake E. and Lucas are gone, the main focus has shifted to Lee and Eric. On Monday night's episode, viewers saw Lee incite a fight with Eric, which seems to only escalate with each passing interaction. In fact, Eric and Lee's fight on The Bachelorette brings out a major red flag among viewers.
Lee has been a controversial contestant since before the season began. The internet found his now-locked Twitter account and what they saw was... not pretty. According to E! News, The Bachelorette contestant wrote numerous messages (which many have commented seem racist and sexist) that were allegedly posted to his Twitter account a few years prior to him appearing on the show (2015 and 2016 to be exact). Now that he's on the show, though, Lee seems to use a method of getting other contestants upset for his personal gain. His attacks seem to be focused on Eric; some of the other men thought he wasn't really here for Rachel, and Lee jumped on the bandwagon.
Towards the end of the latest episode, a few Bachelor Nation members felt that Lee was stirring the pot. They took to Twitter to share their reactions:
Some fans on social media felt that Lee may be more than just a reality show villain. They believe he could potentially be using racist stereotypes to advance in the show and it seems that Bachelor Nation aren't the only ones who think this to be true. In the preview for next week, Will is shown taking Lee aside to talk about what he's doing, even if it's implicit. He talks about how black men have a history of being unfairly labeled as "aggressive" and tries to warn Lee about how he's coming across.
Whatever comes of that conversation, though, will have to wait until next week. It's unclear as to what Rachel will do; she sent home both Lucas and Blake for fighting with each other, so she may do the same with Lee and Eric. She may also have to take into consideration what the other men are saying about Eric. But this is Rachel we're talking about — I'm sure she'll consider all the angles and come up with a smart solution. In the meantime, Bachelor Nation will remain on the edge of their seats.