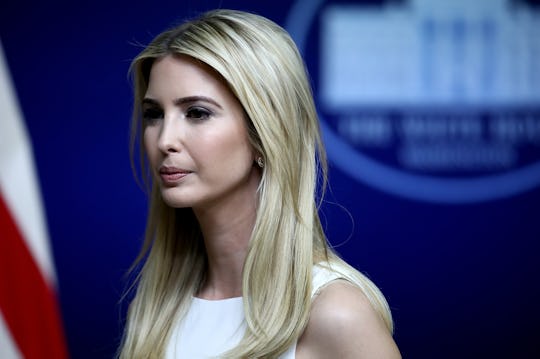 Win McNamee/Getty Images News/Getty Images
Eric Trump Suggests Ivanka Influenced The Syria Strikes
Last week, first daughter and White House adviser Ivanka Trump defended her role in her father's administration by saying that "over time, most people will not actually know about" the impact she has had on President Donald Trump's decisions. That line quickly drew its fair share of criticism from women, who argued that Ivanka should be advocating far more publicly for women's rights in Trump's administration. Coincidentally, just a few days later, Eric Trump suggested Ivanka influenced her dad's Syria decision, saying, "Ivanka is a mother of three kids and she has influence."
"I'm sure she said, 'Listen, this is horrible stuff,'" Eric told The Telegraph on Monday, referring to the chemical gas attack in Syria that preceded Trump's air strike on the country. "My father will act in times like that."
Eric was clearly trying to continue the long-held Trump family narrative that Ivanka is quietly working her influence behind the scenes — but that's problematic, for several reasons. First of all, the decision of whether to launch missiles at a government base for carrying out gas attacks should not be influenced by someone whose only former career experience lies in business and fashion. Neither should the decision to push maternity care, to continue funding Title X, or to kill the global gag rule. Those decisions should not be determined by a daughter whispering in her father's ear, but rather based on the input of qualified experts on women's health and equal rights.
Second, as politics columnist Alyssa Rosenberg wrote for The Washington Post recently, the "hidden influence" narrative creates an unfair protection for Ivanka. "Being the person who soothes and coaxes her father, but who can't change his essential nature, is a way of insulating Ivanka Trump from criticism," Rosenberg wrote on Friday.
That's precisely what's going on in Eric's linking of Ivanka's maternal feelings to her father's decision to bomb Syria. It's a way of saying look, here is an area in which Ivanka was able to influence Dad. But that does not answer any other questions about Ivanka's role or influence clearly or transparently. If Ivanka is a mother of three who is so concerned about mothers and their children, whose empathy has the power to make her dad launch missiles, then why is the Trump administration tearing down women's rights? Why was maternal care excluded from the American Health Care Act before it died? Why did the Trump administration yank international funding that helps millions of women, girls, and babies around the world? Did Ivanka not whisper loudly enough, or are those issues she simply isn't bothered by?
That's hard to know, because despite supposedly playing a moderating role in her father's administration, she hasn't shared her views on the issues her dad opposes. "For me, this isn't about promoting my viewpoints," Ivanka told CBS News last week, according to CNN. However, Ivanka also said, "Where I disagree with my father, he knows it, and I express myself with total candor."
Keeping her viewpoints quiet while working as an adviser to her father means Americans will never truly know if Ivanka is helping or hurting their causes. It allows Ivanka to take credit for championing paid maternity leave during Trump's campaign and using her "heartbroken and outraged" feelings to influence her dad's Syria plans — but it absolves her of any responsibility when it comes to Trump's decision to gut maternal care or roll back women's protections at the workplace.
If Ivanka cared so much about women, mothers, and their children, she should have been heartbroken and outraged enough by the dismantling of their rights to persuade her father to change his mind in several other situations. But until Ivanka starts speaking up publicly and consistently defending women, she will continue to be seen simply as a stamp of female approval on her dad's decisions.