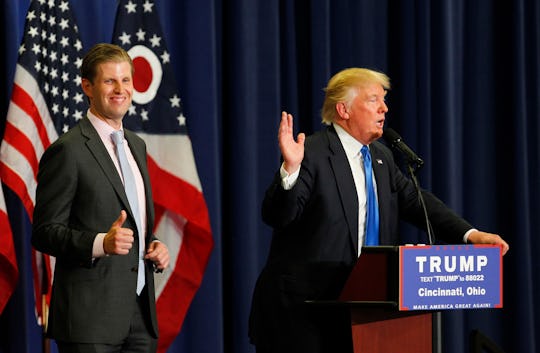 John Sommers II/Getty Images News/Getty Images
Eric Trump Tweets About The Dallas Shooting After Saying Nothing About Castile Or Sterling
Republican frontrunner Donald Trump's son, Eric Trump, weighed in on the Dallas shooting on Friday morning, expressing his gratitude toward law enforcement along with a hashtag that read "Unappreciated." The tweet came after Eric said nothing regarding the deaths of two black men, Alton Sterling and Philando Castile, who were shot dead by police on Tuesday and Wednesday, respectively.
Eric wasn't the only Trump to acknowledge the police officers' death without mentioning Sterling or Castile's. Donald's eldest daughter, Ivanka — whom a senator recently suggested as the best vice presidential pick for her father — held her tongue on Twitter regarding Sterling and Castile, but shared her thoughts on the Dallas attacks, writing:
My thoughts & prayers are with the fallen police officers,their families & the people of Dallas in the wake of this terrible tragedy #Dallas
To round out the family's Twitter game — daughter Tiffany has remained out of politics, son Barron is a bit too young to be on social media yet, and wife Melania rarely attends to her Twitter account — Donald decided to weigh in, as well. While he remained silent after the deaths of Castile and Sterling earlier in the week, he posted about the recent violence on Twitter and Facebook on Friday. Donald did, however, remain vague when it came to naming victims.
On Friday, Donald began by posting:
Prayers and condolences to all of the families who are so thoroughly devastated by the horrors we are all watching take place in our country.
Three hours later, he weighed in again, this time with a longer post on Facebook. He began by mentioning the shot police officers: "Last night's horrific execution-style shootings of 12 Dallas law enforcement officers – five of whom were killed and seven wounded- is an attack on our country. It is a coordinated, premeditated assault on the men and women who keep us safe."
Donald then called to restore "law and order," before mentioning the "senseless, tragic deaths of two people in Louisiana and Minnesota," and offering his thoughts and prayers to all of the victims' families.
Donald Trump — and the family that stand with him at rallies and on television shows — has already received criticism for his treatment of certain races. He has called Mexican immigrants "criminals, drug dealers, rapists," suggested he would create a Muslim database, and expressed distaste for the Black Lives Matter movement, calling them "trouble."
The thing is, the United States is suffering from a problem — a large one. The deaths of Sterling and Castile are only the latest in a list of troubling shootings by police, and protestors and members of the public have expressed outrage at the lack of justice served. By not acknowledging the deaths of Sterling and Castile, the Trump family is ignoring black people and their very real, very pressing concerns regarding police's use of unnecessary force.
I'm with the Trump family in one way: of course, police should not have been shot or killed in Dallas. However, it seems impossible to talk about those officers' deaths without first mentioning the ongoing, frustrating deaths of black men at the hands of police first, and how the law has continually acquitted or shown lenience to officers involved in the unjust killings. The United States needs a president who is willing to talk about that violence, talk about that tension, and make moves to resolve it — not someone who takes the easy route of ignoring it.