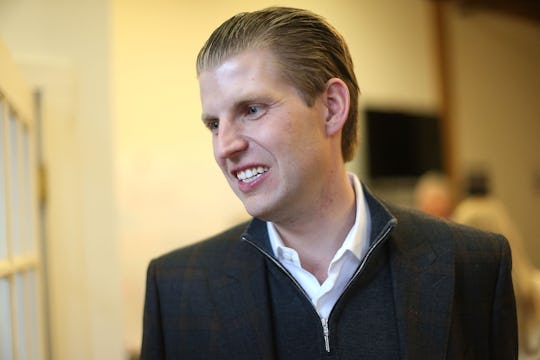 Joe Raedle/Getty Images News/Getty Images
Eric Trump's Roger Ailes Comments Reinforce A Gross, Victim-Blaming Culture
No matter how many chances the media offers, the Trump campaign just can't seem to get on the right side of history with regards to Roger Ailes' sexual harassment accusations. Donald Trump himself has twice defended the former Fox News CEO, and on Tuesday morning, Eric Trump's comments about Roger Ailes doubled down on the victim-blaming statements of his father, claiming that his sister, Ivanka, "wouldn't allow herself" to be sexually harassed by an employer.
Following Fox News host Gretchen Carlson's allegations of sexual harassment, more than a dozen additional women have accused Ailes of similar misconduct dating back to the 1960s. When asked for comment by Chuck Todd on Meet the Press, Donald Trump lamented the fact that women were "saying these horrible things about him." Not exactly supportive of the victims. When offered an opportunity to correct himself by USA Today a week later, Trump first offered the bizarre claim that he didn't realize that multiple women had come forward (he clearly spoke of "women," plural, with Todd). Then, when asked what would happen if Ivanka was harassed at work, Trump said, "I would like to think she would find another career or find another company if that was the case." Because being victimized would, of course, be her problem. (God forbid she seek legal action against the harasser like she should be able to do.)
The Trump campaign has never done well with women, and honestly, it really doesn't seem like they're even trying. When Eric Trump appeared on CBS This Morning on Tuesday, Charlie Rose hand-fed him an explanation for his father's crude statements: "Does he think that perhaps, a better answer would be drawing it to the attention of human resources?" All he had to do was smile and nod! But according to Politico, Eric dug that hole ever deeper, responding, "I think what he's saying is, Ivanka is a strong, powerful woman, she wouldn't allow herself to be objected to it. And by the way, you should take it up with human resources, and I think she would as a strong person. At the same time, I don't think she would allow herself to be subjected to that. I think that's a point he was making, and I think he did so well."
Conversely, do the Trumps think that all of the women that Ailes allegedly harassed are weak and powerless, and allowed their boss to harass them? Because they're certainly making it sound that way. How exactly does a strong, powerful woman allow or not allow her boss to do anything? Does Ivanka Trump possess some sort of mind control ability? Because that is the only way I can think of that a woman could choose whether to allow someone to victimize her. Here's all the Trumps need to know about sexual harassment: it is never the fault or the choice of the victim, period (sorry, Donald, I'm sure you find that word disgusting).