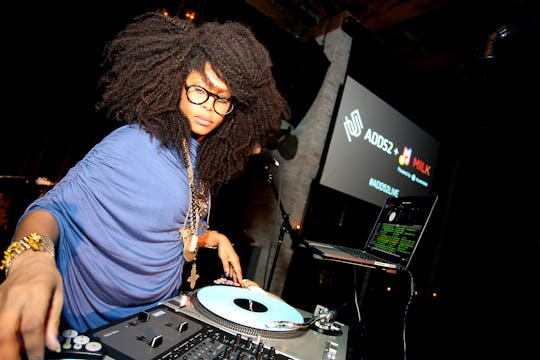 Erykah Badu Remixed Kanye's "Real Friends" & It's Not The Only Track She's Put Her Spin On
It's 2016, and what better way to welcome the new year with a music mashup that nobody expected but everyone wanted. A lot of people are freaking out a little because a Erykah Badu and Kanye West mashup is now a thing. Yesterday, Erykah Badu's remix of Kanye's "Real Friends & No More Parties In L.A." hit the Internet. And if you didn't know already, this isn't the only track Badu has worked her magic on recently.
The remix, called "Trill Friends" was posted on Badu's SoundCloud and is part of her upcoming THIS $h!t TOO EASY mixtape, Pitchfork reported. "What up yeezy?" read the description for the four-minute track. And while this combination — and news of an upcoming album — is exciting enough, the remix also features part of Kendrick Lamar's verse in "No More Parties In LA," ( "Umm, well cutie, I like your bougie booty. Come Erykah Badu me, well let's make a movie") another song believed to be on Kanye's seventh album, Swish. So yeah, "Trill Friends" packs a lot of punch and is a sign that Badu's mixtape will be awesome.
Badu also recently remixed a few other songs that everyone knows. And if her remix of "Real Friends" is any indication, they will be equally as epic. Check out these other two amazing remixes Badu just pumped out.
Badu Also Took On "Hotline Bling"
In November, Badu took on Drake's "Hotline Bling" in a way only she could. While it starts out the way the original does, it quickly becomes her own, full of phone-themed lyrics and sound effects. And she even makes a reference to her 1997 hit "Tyrone."
"I'm writing all the time, but recently I got the bug back," she told Noisey. Badu also said Drake's song got her back into creating music:
When it comes, it comes, and I can't force it, but recently I got it back with "Hotline Bling" and all the other things I've been experimenting with … I love Drake because he's ever-evolving. He keeps forecasting what will happen. He pays attention to what's going on and then he embodies it.
Badu's popular remix of "Hotline Bling" was part of her But You Caint Use My Phone mixtape, which was released on Nov. 25. The tape not only included the "Hotline Bling" remix, which was renamed "Cell U Lar Device," but was chock full of songs that referred to telephones and pop culture.
And She Also Collaborated With Andre 3000
But if that remix wasn't a good reason to listen to But You Caint Use My Phone, it is worth mentioning that Andre 3000 makes an appearance on the mixtape. The OutKast member, who has a child with Badu, collaborated with her to remix "Hello," by Adele, according to Rolling Stone. While Andre 3000 said that his relationship with Badu inspired OutKast to pen "Ms. Jackson," their 2002 breakup led many fans to believe that a joint track wasn't in the cards. But then it happend after the duo listened to the Isley Brothers' cover of "Hello."
"It was a great reunion because I don't think people have heard a song from us in ages," he told Rolling Stone.
It's clear the Badu isn't going to slow down on remixing popular tracks anytime soon, which is great news for her fans...and Kanye's fans, and OutKast fans, and Adele fans.
Image: Rachel Murray/Getty Images News