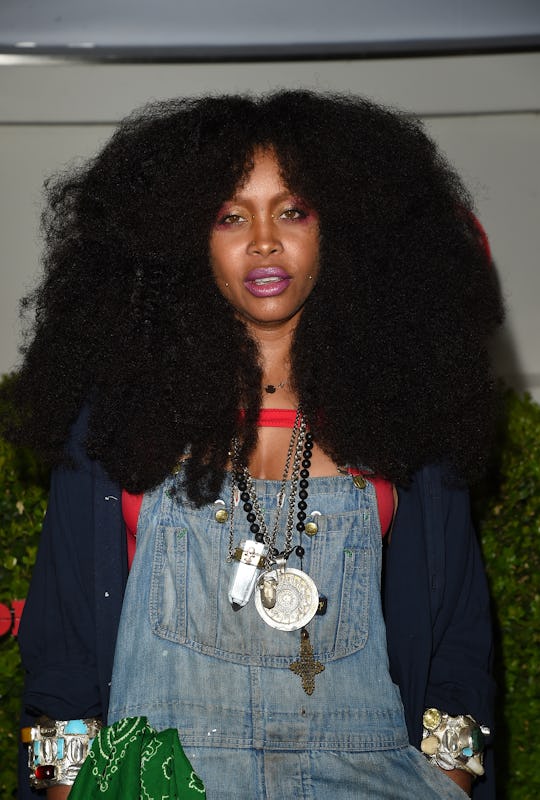 Erykah Badu Says Iggy Azalea's Music Is "Definitely Not Rap" At The Soul Train Awards
It seems not a month goes by that rapper Iggy Azalea isn't "feuding" with someone, according to the media or otherwise. And, after Sunday night's Soul Train Awards, it seems those headlines are hardly going anywhere. During the awards show, Erykah Badu called out Azalea, leading to quite a reaction from the crowd, the Internet, and, of course, the media.
The story behind the diss? While taking the stage and joking about her "effect on rappers" (as the musician said, "I have this common effect on rappers: that I make them change gods and wear crochet hats, shoulder pads"), Badu talked about how rap was "banned" at the awards. She then proceeded to take a faux phone call from Azalea, and said:
Who is this? Iggy Azalea? Yeah, hey! No, no, no, no, no, no, no! You can come. Because what you're doing is definitely not rap.
It's hardly the first time Azalea's music has been criticized. At the BET Awards in 2014, Nicki Minaj hinted that Azalea didn't write her own music, and the "Fancy" rapper has long been accused of appropriation. As Amy Zimmerman of The Daily Beast wrote back in 2014:
If you turn on the radio (or if you're under the age of forty and listen to music on Spotify) looking for Iggy's hot new flow, be forewarned: the 24-year-old Aussie doesn't do much more than mimic the identifiably black spitting style of the American South.
And Gawker's Rich Juzwiak also labeled Azalea "rap's best drag queen," while Jill Scott and Eve have both criticized Azalea's "blaccent."
Though Azalea has yet to respond to Badu's insult (Azalea has been Twitter silent since November), she has hit back critics in the past for targeting her musical style.
But, in the meantime, the Internet, of course, is having quite a bit of fun with the diss.
Image: Jason Merritt/Getty