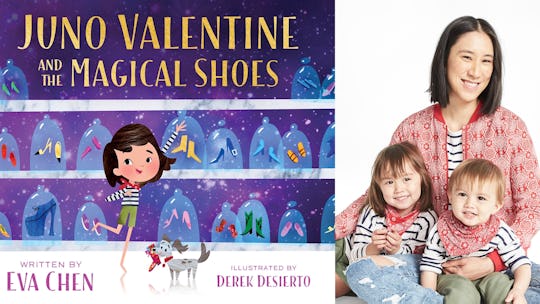 Courtesy Janie and Jack
This Adorable Children's Book Is All About Fashion, Individuality, & Girl Power
This month, fashion maven turned children's book author Eva Chen is celebrating the release of her brand new book Juno Valentine and the Magical Shoes. This story, a celebration of all things individuality, fashion, and girl power, also serves as the inspiration of the limited edition Juno Valentine clothing collection by Janie and Jack. "True-to-story" clothing and shoes allow your little one to feel just like Juno Valentine, the spunky and unapologetically authentic star of what will inevitably become your family's new favorite book.
Author Eva Chen wears a variety of different hats (and as you might imagine, they're all fashionable). After serving as former Lucky magazine's youngest editor-in-chief, Chen joined the Instagram team as their Director of Fashion Partnerships in 2015. In other words, she's basically the queen of the influencers. She's mama to daughter Ren and son Tao, and now she can add author to her list.
In Juno Valentine and the Magical Shoes ($12, Amazon), released earlier this month, protagonist Juno is late for school as she searches for her favorite shoes, which have gone missing. In her hunt to find them, she stumbles upon a magical room filled with every sort of shoe she could imagine – and she has the chance to try them on. Juno steps into the shoes of powerful female icons, from Cleopatra to Marie Curie, Serena Williams to Sally Ride. After following the footsteps of these powerhouse women, Juno realizes that her favorite, trusty shoes have their own magic.
For Chen, creating the character of Juno didn't require too much imagination. In fact, her muse was right in front of her in the form of her daughter, Ren. "There's a lot of Ren in Juno! Juno definitely has a lot of strong opinions, she knows what she likes and doesn't like. In one part of the book, Juno says she doesn't want to wear a Cinderella dress because she can't move around freely in it, and that is a very Ren thing," Chen explains to Romper. It won't be a stretch for other parents to relate to the protagonist. "In general, anyone who has a feisty, strong willed, opinionated daughter or son will see a little of Juno in their child and vice versa," Chen tells Romper.
To bring Juno's adventure to life, Chen collaborated with Janie and Jack on a 30-piece capsule collection. "I never thought I'd be a designer," Chen admits to Romper, "But when given the opportunity to work with Janie and Jack to create clothes for kids it was so exciting and I loved every moment of it." The collection, featuring clothing, shoes, and accessories, is available online, as well as Janie and Jack and Saks Fifth Avenue stores.
Chen designed Juno's look to be gender neutral, hoping both girls and boys will connect with the story and the character. "The core Juno look, including the striped shirt, bandana bomber, olive shorts and joggers, is gender fluid, so boys and girls can wear the look," Chen tells Romper. "I wanted little boys to also be able to connect with the book by being exposed to strong women and go into life not feeling like certain things are only for girls or boys. It's okay for a boy to sparkle or a girl to like dinosaurs, it should go in every direction." And if sparkle's what your kid wants, sparkle's what they'll get.
Frida's color, Misty's grace, Gaga's sparkle, and Serena's grit... After trying on pair after pair of magical shoes, Juno Valentine had collected the qualities she admired most in other strong women and came home to put magic into her own beloved pair of footwear. (Your kids can do the same with this set of fabric markers and white kicks from the Janie and Jack collection). After reading Juno Valentine and the Magical Shoes, your own child will undoubtedly be inspired to do the same.