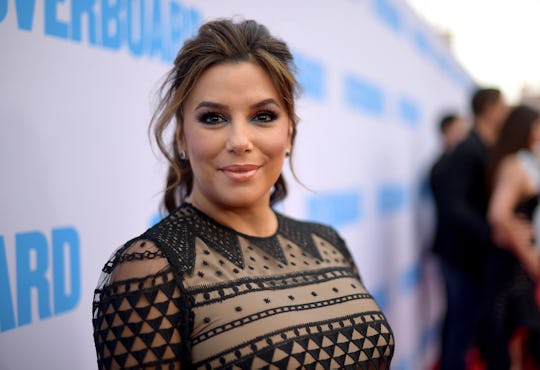 Matt Winkelmeyer/Getty Images Entertainment/Getty Images
Eva Longoria's Instagram About The "Breastfeeding Hairdo" Shouted Out *This* Mom Of Two
Celebrities are inspirational for everyone — and celebrity moms are even more of an inspiration for women needing some help navigating parenting. Because of this, it would only make sense that other celebrity moms would look to each other for inspiration, too. Take new mom and actress Eva Longoria, for example. In a new Instagram post, Eva Longoria gave a shout out to Chrissy Teigen, asking her for hair advice when it comes to breastfeeding — and it makes so much sense. Teigen is such an inspiration when it comes to parenting and style that of course Longoria would look to her for assurance.
Sure, Longoria welcomed her first child, a son named Santiago, into this world with her husband, José Bastón, one month ago on June 19, according to Us Weekly. But in the four weeks since then, Longoria is still (rightfully) learning the ropes and getting used to a few things about being a mom — like the constant feedings that newborns need and the fact that her hair needs a little less attention.
In her newest Instagram photo, posted to her account on Friday, Longoria smiled sweetly into the camera with Santiago laying against her chest, appearing to be sleeping (very) soundly. Meanwhile, Longoria looks so well-rested and gorgeous in every way possible. But, in the photo's caption, Longoria pointed out the fact that she does have a problem with one thing about her appearance — the fact that she constantly has to wear a messy bun in her hair. Because of this, Longoria gave a shout out to Teigen, mom of two and breastfeeding advocate, according to People, asking if she had any advice to lend her about the messy bun.
"Hey Chrissy Teigen, is this the official hair style of breastfeeding?" Longoria captioned the photo. Whether it is or isn't the "official hair style," Longoria's hair could not look any more perfect.
Longoria continued to vent about her love-hate relationship with her messy bun, writing in the caption of the Instagram photo:
I feel like I'm always in a messy top bun! Too hard to do anything else!
Teigen definitely understands Longoria's pain. In May, while Teigen's peers were attending the Met Gala, Teigen Instagrammed her less glamorous look for staying at home, which she had to do because she was still pregnant, according to Harper's Bazaar, and attending the event was "too risky" for her pregnancy. So, Teigen opted for her couch instead of the red carpet and put her hair in a messy bun instead of a glamorous updo. In her hilarious Instagram post, Teigen shared a photo of her bun, according to Teen Vogue, and taught her followers how to do it in funniest tutorial, written out in the caption of the photo. Teigen wrote in the photo's caption, according to Teen Vogue:
First, I shampooed my hair yesterday with shampoo, then I let it sit for four minutes while I shaved the areas I could see on my body. Next, I used a towel to dry my hair from my roots to roots. Then, I used a rubber band to secure my hair into a pony that I was careful not to pull out all the way. Lastly, I pulled out the pieces around my ears in neck.
Eight days after Teigen posted this tutorial, she gave birth to her second child — a son named Miles, according to Us Weekly. So she probably got a lot of good use out of her own breastfeeding bun tutorial.
Given Longoria's shoutout on Friday, it's likely that she followed this tutorial, too.
Whether you're breastfeeding, like Longoria and Teigen, or not — the messy bun is a go to hairstyle for a lot of people out there (including myself). It does an excellent job at keeping long hair out of the face so everyone can focus on their tasks at hand without their hair getting in the way. For Longoria and Teigen, that task is breastfeeding, and the messy bun gets the job done.
While this up-do might not be the most glamorous hairstyle that Longoria has rocked in the past, she wears it so well. And who knows? This breastfeeding bun could make a red carpet appearance in the near future, especially since Longoria's life has forever changed since becoming a new mom.