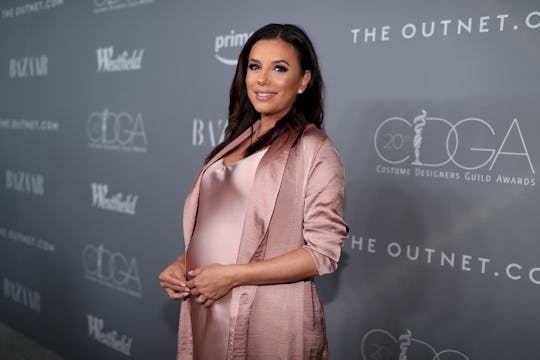 Christopher Polk/Getty Images Entertainment/Getty Images
Eva Longoria Gets Real About Working While Pregnant & It's So, So Relatable
People call pregnancy "the longest shortest time" and that could not be any more true for those nine months. During those initial first months, time feels like it drags and flies by simultaneously, especially the former though when you're still keeping your pregnancy news a secret from most people. Actress Eva Longoria knows this all too well, and in a recent interview with Us Weekly, Longoria got real about working while pregnant and trying to keep the news to herself, and anyone who has ever had to keep their pregnancy a secret from their co-workers for just a little bit can probably relate.
Longoria officially announced that she was expecting her first child, a son, with husband José Bastón in December, shortly before Christmas, in an incredibly subtle way — the couple's representative only confirmed the news and that Longoria was four months pregnant to People. Sure, her announcement wasn't flashy, but there was no need for that. In the two months since then, Longoria has been pretty honest with her fans about being pregnant and how it's affected her life.
While fans couldn't have been there with Longoria during those early months of pregnancy, Longoria revealed to Us Weekly on Wednesday just how hard they were for her, especially when she found out that she was pregnant while she was directing episodes of the FOX TV show, The Mick, but couldn't tell her co-workers and the actors on set. Her story is pretty darn relatable.
Longoria told Us Weekly that the first few weeks of pregnancy hit her, hard. Longoria said that she was "so nauseous and tired" during those moments and that she hoped her co-workers could forgive her, even if they didn't know what was going on. Longoria told the publication:
I thought they're going to think I'm a terrible director because I'm sleeping all the time! Every chance I got I took a nap!
Taking a nap should never be seen as a bad thing, even if it did appear as if Longoria had a completely valid excuse. If adults were given nap time like children in pre-school the world would undoubtably be much better. But if Longoria's co-workers had ever been pregnant before, then they too could probably relate. Extreme fatigue and exhaustion is a huge symptom of pregnancy, especially in those first few weeks, according to Baby Center. This can be attributed to hormonal changes, as well as the fact that your body is getting used to carrying the baby. With all of these physical changes that occur, your body needs every bit of energy it can get, according to the American Pregnancy Association, hence why women start to feel tired very quickly.
But this isn't the first time that Longoria has gotten real about her pregnancy (thank goodness). Last week, Longoria revealed that she has been craving french fries during her pregnancy in a hilarious Instagram post. In the photo, Longoria can be seen partaking in a photo shoot with a huge bowl of french fries out of the frame (and waiting for Longoria to eat). And over the pat few months, since announcing her pregnancy, Longoria has thankfully been keeping her fans updated with bump shots on her Instagram.
In spite of these great Instagrams and the fact that Longoria only has a few months left of pregnancy, she revealed to Us Weekly on Wednesday that she still hasn't gotten the nursery ready for her baby boy or thought of a name due to her focusing on a pilot she has been producing, according to Us Weekly. "Once I finish this pilot, I'll be able to focus on getting ready for my little boy."
Longoria's co-workers should be able to forgive her for wanting to focus on her pregnancy and getting ready for her little boy. Although she had to keep her pregnancy a secret from everyone at work during those first few weeks, you really can't blame her for wanting to take a nap. If only that was possible at every job.
Check out Romper's new video series, Bearing The Motherload, where disagreeing parents from different sides of an issue sit down with a mediator and talk about how to support (and not judge) each other's parenting perspectives. New episodes air Mondays on Facebook.