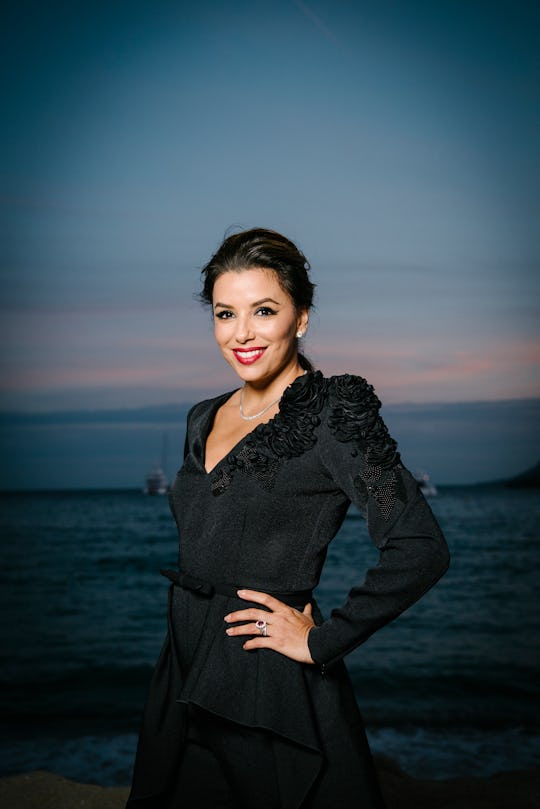 Gareth Cattermole/Getty Images Entertainment/Getty Images
Eva Longoria On The One Thing Every Woman Thinks When She Finds Out She's Pregnant — EXCLUSIVE
Dog Days, Ken Marino's new film, opening Wednesday across the country, chronicles the lives of a group of strangers in Los Angeles in a movie you might describe as "Crash with dogs," only happy. The pups are the connective tissue between lovers and families alike. A tooth-achingly charming movie with a star-studded cast (Nina Dobrev, Vanessa Hudgens, Rob Corddry), Dog Days feels like a lovely return to simplicity; the stakes, for the most part, are refreshingly low and the tearjerker moments feel wholesome, rather than harrowing. Perhaps the most poignant storyline follows a couple who have just adopted a young girl along their anxiety-ridden journey to helping her feel like a part of the family. The mother, Grace, is played by Eva Longoria, who began filming Dog Days with a big secret — "I had just found out I was pregnant. No one knew except me," Longoria tells Romper by phone of her first few days of filming.
Recalling a scene in which her character Grace wonders aloud whether she will know how to be a good mother, Longoria felt a bit overwhelmed by the irony. "To have that dialogue in that moment was pretty profound," she laughs. "I was like, oh my god, what if I really don't know what to do?"
It's a feeling all mothers can remember well, to be sure. And it's a sentiment that parents need to see and hear in popular media, rather than be presented with image after image of motherhood that feel airbrushed and sanitized, scrubbed of any insecurity or struggle. Thankfully, it seems that Hollywood's ideas of what modern parenting looks like are beginning to shift. In 2018 alone, we saw Tully, Motherland, The Letdown, and novels like Sheila Heti's Motherhood and Meaghan O'Connell's memoir And Now We Have Everything address women's conflicted feelings around parenthood with refreshing honesty.
I was like, oh my god, what if I really don't know what to do?
Still, the mom of one notes, that change is happening very slowly. "I think we still have a long way to go as far as storytelling. We have to get more female writers and a female perspective in order to capture the true essence of what motherhood is."
She mentions Kay Cannon's Blockers — a slapstick comedy about three parents who do everything in their power to stop their daughters from losing their virginity on prom night — as a recent example of a mainstream movie that used hyperbolic comedy to communicate a real fear that parents experience these days: what happens when your children are out of sight in a hyper-connected world.
"I mean, it's terrifying to be a mom and have social media today. What is your child doing on social media? Who are they talking to?" Longoria wonders.
Not your typical suburban mom fare, the New Yorker's Richard Brody wrote of the movie that, "For all its imaginative contrivances and mildly smutty comedy, though, Blockers is a movie that remains amazingly, dishearteningly pure."
"I think about my son, who was just born — what world will he be in?" Longoria says, "iPhones are only 10 years old. I thought Blockers definitely heightened that situation with outrageous scenarios… but that's what it was: 'I want to protect my child.' That was really the main point of the movie."
Worrying about social media's influence over our lives and the lives of our children — no matter what their age — is old hat for parents across the spectrum. For many, the ever-present spectre of our current political situation looms much larger. Longoria has been outspoken on the U.S. border policy, Trump's immigration bans, and racial discrimination against Latinx people, as seen during her impassioned interview on The View last February.
The daughter of a Mexican-American family in Texas, Longoria has long supported the DREAM Act, made several visits to the border in Arizona, and fought against a new bill that would mandate police investigation of people suspected of illegal immigration, per Politics Outdoors. Her commitment to shedding light on these vital issues has has only strengthened since the birth of her son in June, and she speaks with conviction on the need for people to stay focused on holding our government accountable.
"It's hard to not be disenchanted... it's hard to continue the fight, but it's something we must do," Longoria says plainly. "You can be saddened by the lack of progress, by the lack of results... There's such outrage and yet, no progress. So it's like, wait, we march and we yell and we show up, and I call my congressperson, and there's no movement?"
As a new mom, I can't even imagine somebody ripping [my son] from my arms and not telling me where he went.
It's a frustration that those protesting family separation have become intimately acquainted with, Longoria included. A longtime critic of U.S. immigration policy and the dangers facing refugees seeking political asylum, she stresses the importance of not giving in to despair, for the sake of those who need help the most.
"We have to continue the fight because it is just, and it is right, and families need to be together," she tells me. "As a new mom, I can't even imagine somebody ripping [my son] from my arms and not telling me where he went. These mothers are in so much pain."
The importance of family is at the heart of Dog Days, as shifting roles and unexpected obstacles create the need for acceptance, understanding, and, most of all, love. Grace's determination to help her new daughter feel like she's a part of a strong family unit feels both urgent and particularly poignant at this point in our history.
This may be a charming and comedic 112-minute romp, but don't let its lightheartedness, or the easy charm of Longoria, fool you: there's some bite to it.