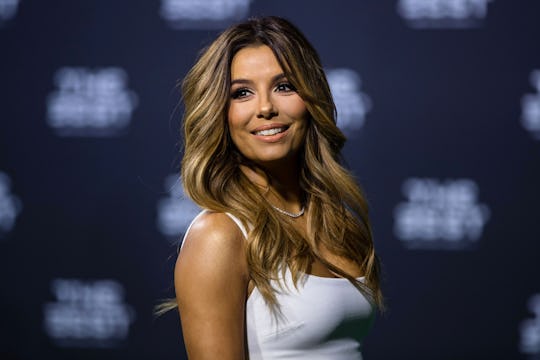 Philipp Schmidli/Getty Images Sport/Getty Images
Eva Longoria Is Asking Others To Bring Awareness To Metastatic Breast Cancer
When you type Eva Longoria's name into Google, you are instantly overwhelmed with 37 million results pertaining to the actress. You can easily find what shows and movies she's starred in, her social media accounts, and the latest headlines surrounding her life. What you won't find as immediately, unfortunately, is that the actress is much more than that — she's also a very involved philanthropist and activist. In her latest venture, Eva Longoria is raising awareness for metastatic breast cancer thanks to her ongoing campaign with Novartis.
In fact, Longoria has experienced breast cancer far too close to home. Her sister, Liza Longoria, was diagnosed with the disease a few years back. Although Liza got lucky because they caught her breast cancer at Stage 1 and she's been in remission for years, her family, including Longoria, knows that it can come back at any time. "Yes, thankfully my sister is currently in remission. But the truth is up to 1 in 3 people diagnosed with early-stage breast cancer, what my sister had, will go on to develop metastatic disease," Longoria told Romper when we spoke about her partnership with global healthcare company Novartis. "Continued research and support for metastatic breast cancer is important."
For Longoria, bringing awareness to the risks of metastatic breast cancer wasn't just about the personal connection she had to the disease. It was when Longoria realized that metastatic breast cancer desperately needed more awareness that Longoria decided it was time to use her platform to get involved and, hopefully, help save lives.
"I thought that I was literate on the breast cancer subject and I had no idea about metastatic breast cancer, and that it has no cure," Longoria shared. "People living with this disease need research funds and support dedicated to finding a cure for a disease that currently has none." To help support that research, Longoria and Novartis launched the #KissThis4MBC social media campaign. As Longoria explained to Romper, for every Boomerang or selfie tagged with #KissThis4MBC, $15 will be donated to the research the metastatic breast cancer community desperately needs.
Becoming a mother has also impacted Longoria's mission to bring awareness to metastatic breast cancer. "For me, personally, having a son has motivated me to continue raising young children and worry about who will take care of their children when they're gone," Longoria, who gave birth to her first child, a son named Santiago, in June 2018, as reported by Us Weekly. As she's campaigned for awareness and research, Longoria says she's met many parents who are living with MBC that are constantly worried about who will care for their small children once they're gone. "I'm experiencing firsthand how challenging it can be to balance being a new mom while also juggling work and all of the other things that life brings. I can't imagine also facing a life-threatening disease like metastatic breast cancer. For me, it reiterates why it's so important that we continue to support people living with metastatic breast cancer."
To help raise funds and awareness for metastatic breast cancer, all you have to do is post a selfie or Boomerang online with the hashtag "KissThis4MBC." Yes, it really is as simple as that and will take you all but three minutes to do.
You can learn more about metastatic breast cancer by reading about it at BreastCancer.org.