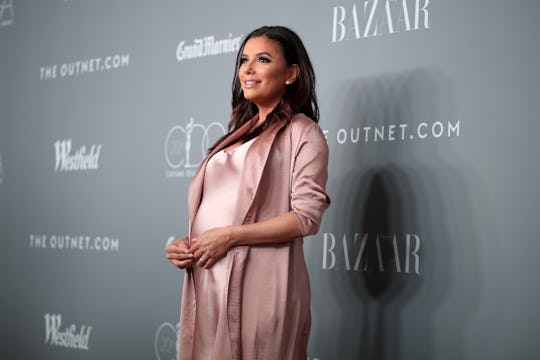 Christopher Polk/Getty Images Entertainment/Getty Images
Eva Longoria's Pregnancy Cravings Are *Too* Relatable
Who doesn't get cravings for super specific foods? When hunger strikes, it can hit hard at any point in time, no matter who you are, what kind of access you have to those foods, or whether you're pregnant or not. People who are pregnant or expecting know that pregnancy cravings can hit especially hard and don't discriminate against you, even if you are a super popular actress like Eva Longoria. On Instagram Thursday, Longoria opened up about her pregnancy cravings and you might be surprised at how normal and ordinary they are.
Cereal. Longoria might be in her final trimester of pregnancy, but that doesn't her from craving every kid's favorite breakfast food. On Thursday night, according to People, Longoria took to her Instagram story to not only talk about her pregnancy cravings but to use the resources of her fans to help her make a decision. "You guys, I'm so hungry," Longoria told fans, according to People. "And I don't wanna cook anything, and I don't feel like ordering anything, so I'm gonna eat cereal but I can't decide what cereal to eat."
When cravings really kick in, there is no time for indecision. So, when Longoria couldn't decide between eating a bowl of Mini Wheats or Fruity Pebbles, Longoria came up with the genius idea to make a bowl with both cereals combined. Heck yeah.
Longoria blamed this interesting and unique combination on her pregnancy, of course. Longoria said, according to People:
Just so you know, guys, this isn't me. It's my baby. It's my baby wanting cereal for dinner.
And this is a totally valid excuse because pregnancy cravings are truly wild. While there isn't one set explanation behind why women crave certain foods so much during their pregnancy, according to Babble, some people believe it has to do with a mother's heightened sense of taste that they develop during their pregnancy. And cravings can also be blamed on hormonal changes, according to Parents, which explains why some women crave different foods while they're on their periods. Longoria isn't the only person to crave cereal during her pregnancy, either. Pregnant women from all over have flooded to forums, like Baby Center and The Bump, to ask other women why they might be craving cereal during their pregnancy — and women from all over responded with their cereals of choice. So Longoria definitely isn't alone when it comes to her wild, genius decision to make a mixed bowl of cereal, either.
But this isn't the first time that Longoria has opened up about those wild and unpredictable pregnancy cravings.
Last week, Longoria (also) took to Instagram where she told her fans and followers that the baby had been wanting french fries. In the Instagram post, Longoria posed for a photoshoot with a bowl of french fries (out of frame) close by (if that isn't super relatable I don't know what is). And in another Instagram post (you're starting to sense a pattern now, aren't you?) Longoria revealed that she had been missing wine during her pregnancy, too.
But now at six months pregnant, Longoria will able to indulge in wine soon enough. People refer to pregnancy as the "longest shortest time" for a reason — as unpredictable it may feel, it really does go by super fast. But Longoria might need all of that time. During an interview with Us Weekly this week, Longoria revealed that she is not yet prepared for the arrival of her son due to a new TV series that she is producing. "Once I finish this pilot, I'll be able to focus on getting ready for my little boy," Longoria said.
Surely the next three months will go by super fast for Longoria, which means her pregnancy cravings will be over soon enough.