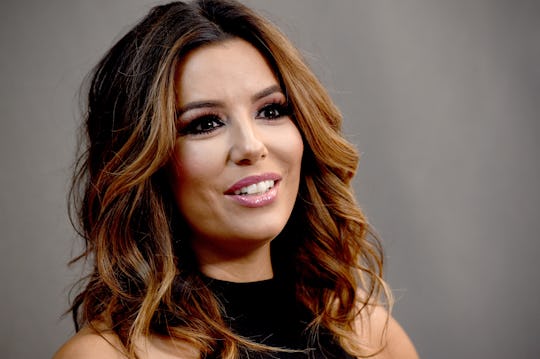 Kevin Winter/Getty Images Entertainment/Getty Images
Eva Longoria Says Having Children Would Be "A Blessing"
Just weeks after dismissing pregnancy rumors, Eva Longoria said having children would be "a blessing." Five months ago the Telenovela star got married to José Antonio "Pepe" Bastón in a beautiful ceremony in Mexico and many people thought that the actress was sporting a gorgeous pregnancy glow soon after. But Longoria quickly shut down any rumors that the newlyweds were starting a family. In a recent interview, however, she didn't completely dismiss the idea of having a baby some day in the future.
In a recent interview with Ocean Drive magazine, the 41-year-old star talked about how she would feel if she and Bastón became parents one day.
"It if happens, it happens," she told the Miami-based fashion and entertainment magazine on Oct. 28. "If it's meant to be it would be a blessing."
Earlier this month, Longoria gushed about newlywed life with her new husband in a recent interview with In Touch and said that she is "the luckiest woman in the world," but that they weren't thinking about starting a family just yet.
"Well, everyone is saying I'm glowing but I'm not pregnant! I'm just in love," she said in the interview with In Touch on Oct. 13. "We're not thinking about that right now. We've only been married four months."
While it doesn't seem like there are any immediate plans in the works for the powerhouse couple to have a baby any time soon, in the interview with Ocean Drive, the Desperate Housewives star said that she considers her new husband — who is the president of Televisa, the largest media company in Latin America — her "soulmate."
"Pepe and I are soul mates — I don't even know how to explain it, because it's like we're two different sides of the same coin," Longoria told Ocean Drive. "He's compassionate, kind, handsome — he's everything I wanted and didn't even know I wanted."
And if children are meant to be for Longoria and Bastón, the actress will have already had an amazing course in parenting, as she is now the stepmother to Bastón's children from a previous marriage — 21-year-old daughter Talia and 13-year-old twins Jose and Mariana.
"They are amazing children," she said in the same interview. "I'm so happy to be part of their lives."
Longoria is easily one of the hardest-working women in Hollywood as well as an impassioned activist on immigration. So, if children are really meant to be for the actress and her new family, everyone can agree that they'll have an amazing role model.