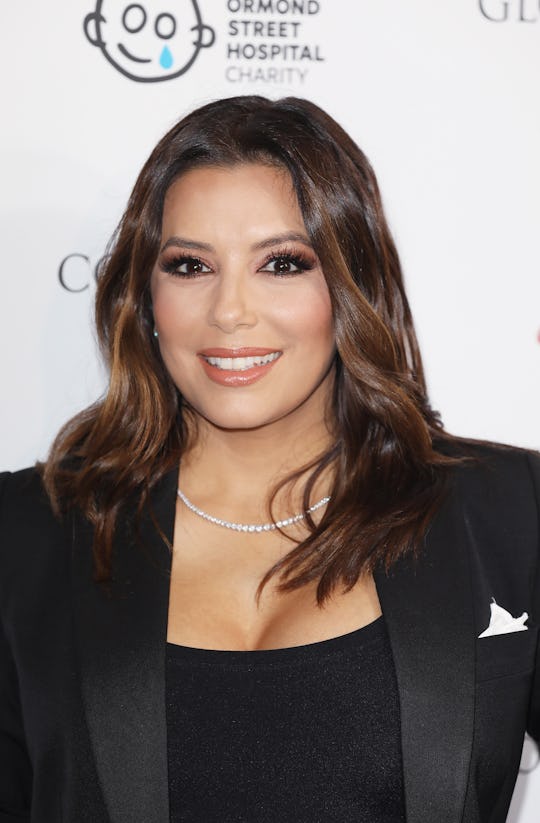 Tim P. Whitby/Getty Images Entertainment/Getty Images
Eva Longoria Shared Her First Bump Photo & Fans Are So Thrilled For The Mom-To-Be
On Dec. 19, the world learned that Eva Longoria is expecting her first child with husband Jose "Pepe" Baston. The actress has been open in recent years in wondering if her biological clock was ticking — so naturally, fans were thrilled to learn the 42-year-old would soon become a mother. Now, the former Desperate Housewives actress is ringing in the new year with a special gift to her Instagram followers. That's because Eva Longoria shared her first bump photo, and fans are absolutely thrilled for the mom-to-be.
On Monday, People reported Longoria shared the sweet picture of herself wearing red plaid pajamas with both hands resting on her bump. Three other hands are also caressing her belly in the Instagram shot, which was posted with this message: "New year, new adventures! I'm so grateful to my beautiful family for giving this new baby so much love already!#HappyNewYear #2018." (How adorable!) And clearly, her followers were enamored.
"I'm beyond happy and excited for you! You're gonna be an amazing mom!" one follower commented.
Another Instagram user wrote, "Congratulations Eva! A beautiful year for you and your future family!"
Yet another fan commented,"Congratulations on your precious baby. I've wanted this for u Eva for so long. There is nothing better than being a mother. Happy New years to your family."
Still, some Instagram followers apparently missed the baby memo from earlier in December. "Wait what?!! This isn't a new year prank is it???" one person commented. It seems many of Longoria's Instagram followers didn't see the big news when it first broke on Dec. 19. Us Weekly reported the actress, 42, and her husband, 49, will welcome their first child together in spring 2018. And according to People, Longoria was already four months along with a baby boy. This will actually be Baston's fourth child — he already has three kids, José, Tali and Mariana with ex-wife Natalia Esperón — but his first with Longoria.
Speaking of technicalities, this isn't the first-ever bump photo of Longoria — it's just the first one she's actually posted. On Christmas Day, fellow actress Olivia Munn posted of herself and mom-to-be grilling out and "holding" a festive cactus and Christmas tree. "Christmas in Miami," Munn captioned the snap. "When friends become family." (There it is!)
Longoria's official baby news comes after years of sporadic bump speculation. In September, for example, fans suspected she was pregnant as a result of vacation photos posted on social media, according to Metro. The Desperate Housewives star was spotted wearing a loose-fitting dress while in Athens, Greece with her husband. And before this, in April, Longoria denied being pregnant after photos of her with a bloated belly surfaced. "I saw some pictures of myself really fat on a boat. I have to tell you all I did was eat cheese," Longoria posted on Snapchat, according to the publication. "So that's the news of the day. I'm not pregnant, just eating a lot of cheese, a lot of wine, a lot of pancakes."
It seems the pregnancy rumors have ramped up ever since Longoria and Baston tied the knot in May 2016. When Longoria was at the L'Oréal Paris 12th Annual Women of Worth event on Dec. 6, an eyewitness said Longoria "kept touching her stomach" while posing for photos, Us Weekly reported. (But this time, it was real!) The high alert for any sign of a bump was also likely influenced by a 2015 interview with People, when Longoria referenced her ticking biological clock. "I just turned 40, so I have thought, 'Is time running out?'" the actress told the publication. "I should be thinking about [children], but I feel like my life is full." Of her three stepchildren, she added, "They've been such a gift in my life. I don't feel like we are lacking because we don't have a baby."
I have no doubt that Longoria (or anyone for that matter) is capable of living a meaningful life without having children. Still, I'm excited for the actress as she embarks on this exciting new phase — one she was anxious would never happen for her. I have a feeling, too, that Longoria's little one will add much joy (and not so much sleep) to her 2018. Congrats, mama!