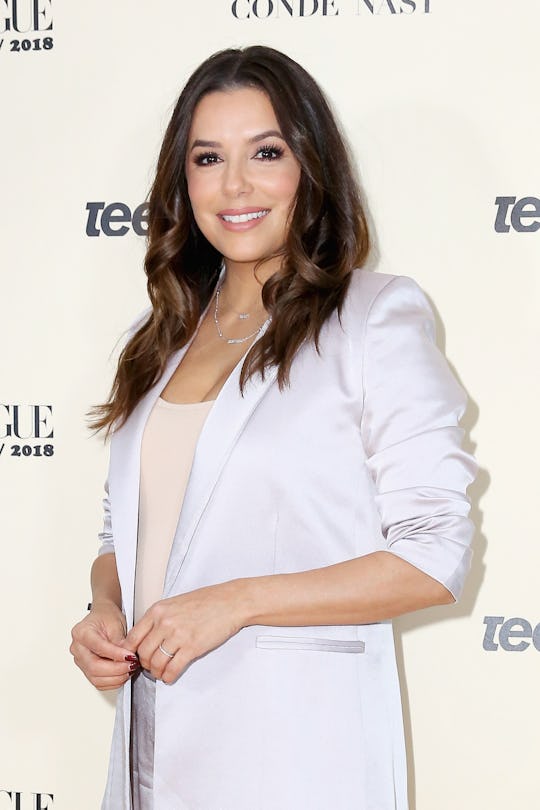 Rachel Murray/Getty Images Entertainment/Getty Images
How Eva Longoria Embraces Her Postpartum Body Is A Refreshing Reminder For All Moms
There is so much pressure placed upon women in general, but never more so than when they're pregnant, after they've given birth, or years that follow as they raise a child. Some women dream of motherhood their whole lives, and end up perhaps accidentally putting unrealistic expectations upon themselves. In other cases, the relentless pressure from society to be the perfect parent and fit into your high school jeans for the next four decades can quickly grate on your psyche. But some people just aren't falling for it anymore. And Eva Longoria's comments about embracing her postpartum body are truly a reminder for all women that your life is to be lived on your own terms — and yeah, that includes when you do or don't decide to "lose the baby weight."
Longoria, who gave birth to her first child, a son back in June, according to Us Weekly, is refusing to let the pressure of other people's expectations influence how she manages her health and body. While attending the Women of Worth Gala in New York this week, she told People: "I don't really succumb to any pressure. So if people were saying, 'Hurry up and lose weight,' I don't know, because I don't listen to it."
She continued in the same interview, "I've had some amazing women in my life — my mom, my sisters — who really taught me about my self-worth from very early on in life... I come from a family of strong women, so it would have been impossible for me to lose my self-worth."
In fact, Longoria has previously opened up about the fact that she not only won't succumb to pressure to change her postpartum body, she actually loves it, and is very grateful for all that it's done.
Back in August, Longoria told Us Weekly: "I am very grateful and thankful for my body for making this amazing human being. So immediately putting it through the ringer to get back into shape is not a priority. Every time I breastfeed, I say 'thank you' to my boobs. I'm like, 'Thank you for giving me a child! Thank you, boobs, thank you, body, for doing all of this for my son.'"
Though she isn't interested in weight loss in particular, Longoria still understands the importance of maintaining health and fitness — especially now that she's a mom.
On Dec. 3, Us Weekly reported Longoria said the following regarding her physique and exercise routine while attending the Teen Vogue Summit in Los Angeles: "I really gave my body time to adjust to postpartum and post-pregnancy. You know, it had a baby! It created a human life, so I really wasn't too hard about getting back into shape."
Longoria shared a similar sentiment back at the end of 2017, when she told Health about how she doesn't enjoy working out particularly, but stays committed to a routine because she knows it's important. "I don't enjoy working out," Longoria began. "...We do have a lot of pressure when people are telling us what we should look like. And I think you have to find your own truth. I don't feel like we should go by these rules and social constructs of society, where you have to be a certain size to be pretty. But I've had friends who don't work out or take care of themselves, and all of a sudden, there's a health issue.
It's clear that Longoria has indeed found her own truth, and is encouraging other women to not play by rules made up by a society that doesn't have their best interests in mind.
This first-time mom wants to have a home birth, but is she ready? Watch how a doula supports a military mom who's determined to have a home birth in Episode One of Romper's Doula Diaries, Season Two, below. Visit Bustle Digital Group's YouTube page for the next three episodes, launching Mondays in December.