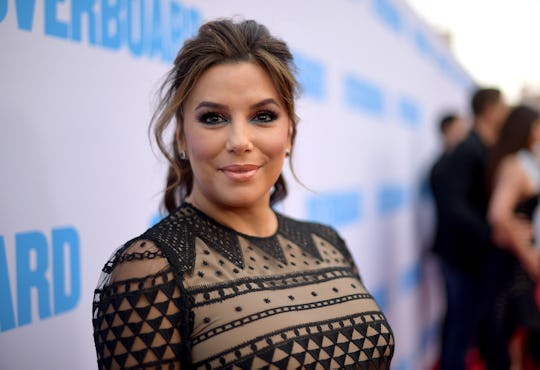 Matt Winkelmeyer/Getty Images Entertainment/Getty Images
Eva Longoria Perfectly Summed Up The Struggle Of Juggling Work & Breastfeeding With A Newborn
It's difficult to imagine — before you actually experience it for yourself, that is — how much your life changes after welcoming a baby. Sure, you're aware of the fact that babies need to be fed and burped every couple of hours, changed as needed, and snuggled liberally. But first-time parents often underestimate how much time will be dedicated to these tasks day in and day out... and how it will impact other aspects of their lives. With that said, Eva Longoria's Instagram post about juggling work and her newborn baby's breastfeeding schedule perfectly summed up this struggle.
As People reported, the new mom took to Instagram on Monday to share with her followers what she's been up to recently. Apparently, the Desperate Housewives star has already had a first post-baby photo shoot under her belt. Oh, and did I mention her baby is barely 2 weeks old? Yes, seriously. "First photo shoot after pregnancy!" Longoria wrote on Instagram, alongside a shot of herself and photographer Bernardo Doral, People reported. "Not gonna lie, this one was hard! Trying to breast feed and work around Santiago's schedule."
Aside from the fact that Longoria is seriously a rockstar (because I looked like a zombie for months after welcoming my first baby... and second, and third...) for willingly getting in front of a camera so soon after birthing a human being, let's just take a moment to appreciate the logistics of what she accomplished. It probably involved getting herself and the baby out of the house and onto air, makeup, and wardrobe before actually posing for who knows how long in front of a camera. (I'm exhausted just thinking about it.) And this impressive feat certainly didn't go unnoticed by her Instagram followers.
"You look incredible well done from one mumma to another," one follower commented.
Another person wrote, "Love to hear you rocking out while still breastfeeding!!"
Yet another Instagram follower commented, "My gosh your son was in born barely two weeks ago. You look great! Don't worry, take your time, you'll get there."
In case you missed the big news, Longoria gave birth on June 19 to a son she and her husband, José Antonio Baston, named Santiago Enrique Bastón, Hola reported. Their baby boy weighed in at 6 pounds, 13 ounces at birth, and he arrived at Cedars-Sinai Medical Center in Los Angeles. The proud parents also decided to share the first image of Santiago with Hola.
"We are so grateful for this beautiful blessing," they told the publication at the time. Longoria ended up posting this same photo to her Instagram account just a couple of days later, along with a birth announcement.
Longoria's pregnancy — and the fact that she was expecting a baby boy — was confirmed by her reps back in December, as People reported. Then on Jan. 1, she officially confirmed the news herself with an announcement on Instagram, as Cosmopolitan reported.
"New year, new adventures!" Longoria captioned a photo of her bump. "I'm so grateful to my beautiful family for giving this new baby so much love already! #HappyNewYear#2018."
Based on her recent Instagram post, it definitely seems like Eva Longoria is well aware that breastfeeding is pretty much an all-consuming commitment. Even for scheduled commitments like a photo shoot, sometimes feedings don't end up spaced out as planned. And so, breastfeeding moms are forced to roll with the punches. Honestly, though, I can't wait to see the photo from this particular shoot. Here's to hoping her photographer also "went with the flow" and captured some stunning shots of Longoria nursing baby Santiago.