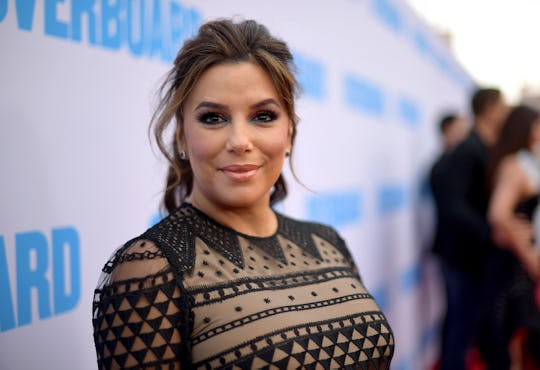 Matt Winkelmeyer/Getty Images Entertainment/Getty Images
Eva Longoria's Photo Of Her Newborn Son Cheering On Team Mexico Is Too Cute to Handle
In case you happened to miss it, former Desperate Housewives star Eva Longoria is now officially a mother. That's right. Longoria and her husband, Jose Bastón welcomed a baby boy less than a week ago today. While it's true that little Santiago has only been on this side of the uterus for a short period of time, it seems he's already pledged his loyalty to a certain football team. This is evident by Eva Longoria's photo of her newborn son cheering on team Mexico during the World Cup. And it's just too cute to handle.
Just days after she delivered her first child, Longoria dressed her baby boy up so they could cheer on team Mexico during a World Cup match against South Korea, E! Online reported. (Mexico won 2 to 1, for the record.) To mark the occasion, the actress shared an adorable photo — featuring baby Santiago wearing a Mexico jersey with "Santi" written on the back — with her Instagram followers on Saturday. In the shot, it appears as if new dad Bastón, wearing a matching jersey, is the one who is snuggling the newborn closely. Alongside the super sweet snap, Longoria wrote, "Look who's ready for #Mexico game! #WorldCup."
Needless to say, Longoria's Instagram followers were totally there for the cute photo. "Congratulations on your new precious baby boy!!" one person commented.
Another follower wrote, "So sweet!! He's an amazing dad already!!!"
Yet another person commented, "Absolutely gorgeous."
Just six days ago, Longoria posted a photo of herself holding the very jersey her newborn son is wearing in today's pic — only she was resting it against her full-term bump. "¡Vamos Mexico!" the mom-to-be captioned the shot, along with the hashtag #BabyIsReadyForNextGame.
As Hola reported, Longoria gave birth on Tuesday, June 19 to a son she and her husband named Santiago Enrique Bastón. Their little boy weighed in at 6 pounds, 13 ounces, and he arrived at Cedars-Sinai Medical Center in Los Angeles. The proud new parents also shared the very first image of Santiago with Hola, saying, "We are so grateful for this beautiful blessing." On June 21, Longoria shared the same first photo on her own Instagram account, along with an announcement and a passionate message about separating families at the U.S.-Mexico border. "Hello world! I introduce to you Santiago Enrique Bastón," she wrote. "Thank you everyone for showering my baby boy with all your warm wishes! Special thanks to @usahola." Longoria continued:
In light of my son's birth I wanted to bring focus on the families that have been separated at the border. Having my son next to me, I cannot imagine him being taken from my arms. Families belong together which is why we must do what we can to reunite them. That's why I am supporting @raicestexas and @aclu_nationwide to help fund legal services for separated families (link in bio) #KeepFamiliesTogether.
News of Longoria's pregnancy was first confirmed by her reps in December, People reported. And at the time, it was actually a double-whammy reveal of the pregnancy and the sex of her child. On Jan. 1, she confirmed the pregnancy herself with an adorable announcement on Instagram, Cosmopolitan reported. The photo featured the actress resting her hands on her bump — along with several other hands belonging to other people. "New year, new adventures!" Longoria wrote, ringing in 2018 with flair. "I'm so grateful to my beautiful family for giving this new baby so much love already! #HappyNewYear#2018."
But seriously, though. I'm loving how watching the World Cup together while sporting team jerseys is already a thing in the Bastón-Longoria household. I think I speak for all of Eva Longoria's followers when I say, "Keep those adorable photos coming, mama!"