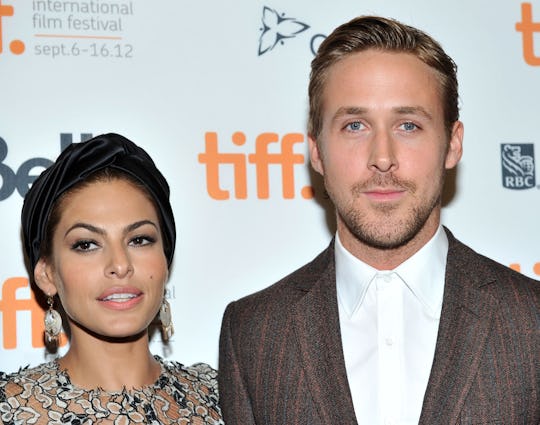 Sonia Recchia/Getty Images Entertainment/Getty Images
Eva Mendes Gives Birth & Sets The Internet On Fire
Step aside Lemonade, Drake, and basically every other trending topic: The Gosling baby is here at last. That is, at least, according to TMZ. The entertainment outlet claimed on Monday evening that Eva Mendes had finally given birth, posting a what was reportedly a copy of the baby's birth certificate, obtained from an unnamed source.
The alleged certificate lists both Mendes and Gosling as the baby's parents. The little one's name too is visible in the copy, and reads "Amada Lee Gosling." The newest addition, if she actually does exist, is the couple's second child, and joins big sister Esmeralda Amada, who's a little less than two years old. Romper has reached out to both actors' reps for comment and is awaiting a response.
The real kicker here? According to the certificate, little Amada Lee was born last month on April 29 at Providence Saint John's Health Center in Santa Monica, California. That means that Mendes and Gosling somehow managed to hide the super-secret pregnancy until just recently, and then successfully snuck off and delivered the little tot, far away from the prying eyes of the paparazzi, without anyone being the wiser. Sneaky sneaky.
Not that that's really surprising. The notoriously private couple have worked hard throughout their five-year relationship to maintain some semblance of normalcy in their otherwise high-profile lives, and for good reason.
In an interview with Violet Grey shortly after Esmeralda's birth, Mendes explained why she and partner Gosling felt compelled to keep their personal and family lives secret. When asked why she had "[flown] under the radar] throughout her pregnancy, Mendes responded,
Whether we like it or not, privacy is going to be very difficult for Esmeralda. I think it's unfair but that's our reality. So Ryan and I decided early on to give her as much privacy as we could. And my pregnancy was the first opportunity to give her that. It's such an intimate time for the mother, too. I know that it seems all very innocuous when you're flipping through a tabloid at the doctor's office or see a photo of a pregnant lady online, but I find the media's "bump watch" obsession to be both intrusive and stressful. So I made a decision to eject myself from it completely. I was like, "Annnnd I'm out."
Despite the fact that the reported baby news is nearly two weeks old, it didn't stop social media users from taking to their respective accounts en masse and tweeting up a storm. "I hate how private celebrities are, but I also respect them for it, like GOD, I WANT TO SEE RYAN GOSLING AND EVA MENDES' BABY BUT I CAN'T," one fan joked.
Others were quick to follow:
Whenever (or rather if ever) Mendes and Gosling decide to come forward and talk about their new bundle of joy with excited fans and press, it'll clearly be in their own time and on their own conditions — and that's perfectly okay.