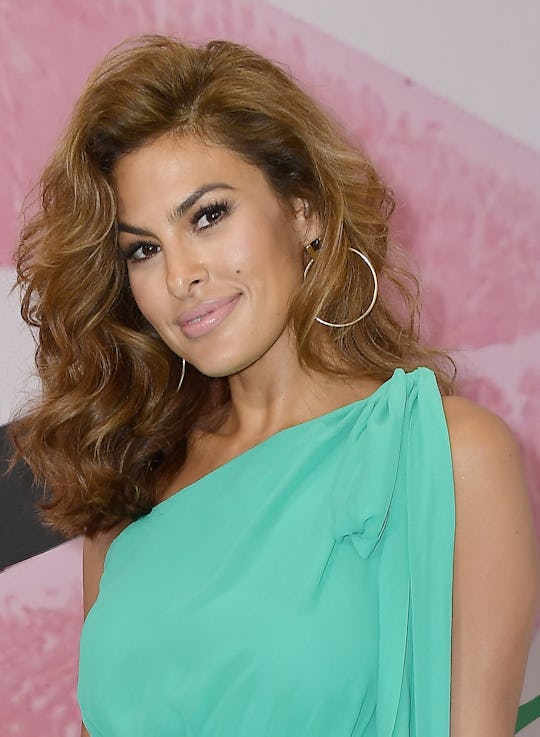 Gustavo Caballero/Getty Images Entertainment/Getty Images
Eva Mendes Lets Her Kids Wear Whatever They Want & Parents Will Definitely Relate
I don't know about you, but I was determined to do everything by "the book" as a brand-new parent. No screen time before age 2, no sugary snacks, my child must leave the house appropriately dressed every morning, etc. Add two more kids into the mix, and my parenting standards have dropped drastically — or rather, I've learned how to better pick my battles. Because honestly, in this crazy business of child-rearing, caregivers have to find some way to keep their sanity intact. Maybe that's why the fact that Eva Mendes lets her kids wear whatever they want is so freaking relatable. And if you're a parent, you will totally get it, too.
If you need a refresher, Mendes has two daughters with husband, Ryan Gosling — Esmeralda, 3.5, and Amada, who turns 2 in May, Us Weekly reported. Although the famous couple have kept their family life incredibly private through the years, Mendes has spoken about her experiences as a mom. Recently, the mom of two opened up to E! Online about one thing in particular she lets slide. The stylish mama was promoting The Eva Mendes Collection for New York & Company, when she was asked about her kiddos and fashion. "Thank God there's no fashion talk. But I let them wear whatever they want," she told the publication. "They have the right … They want to wear jammies all day or if they want to go in a costume to the market, I let them do that stuff." She continued:
I let them win that battle. That's the easy one. I'm trying to get them to eat broccoli. That's the one I want to win. They can wear whatever they want.
This, guys. So this. Who has the emotional energy to waste on petty things like clothing when simply accomplishing the basics is so taxing? (I'm right there with you on the whole vegetables battle, Eva.) I mean, is it really worth a meltdown for your kid to wear something that matches/something they haven't already worn three days in a row/something that isn't a super hero costume? No, no it's not.
Again, Mendes and Gosling have famously remained mum about their relationship and family life; so anytime the actress actually acknowledges she's a mother is pretty exciting. (Seriously, scroll through either of their social media feeds and you'll find exactly zero photos of their little girls.) For the Hollywood couple, it all comes down to preserving their daughters' privacy — starting with pregnancy. "Whether we like it or not, privacy is going to be very difficult for Esmeralda. I think it's unfair but that's our reality," Mendes told Violet Grey before she welcomed her second child. "So Ryan and I decided early on to give her as much privacy as we could. And my pregnancy was the first opportunity to give her that." She continued:
It's such an intimate time for the mother, too. I know that it seems all very innocuous when you're flipping through a tabloid at the doctor's office or see a photo of a pregnant lady online, but I find the media's "bump watch" obsession to be both intrusive and stressful. So I made a decision to eject myself from it completely. I was like, "Annnnd I'm out."
Even though fans have yet to catch a glimpse of either Esmeralda or Amada — whom, with Ryan Gosling and Eva Mendes as parents, are probably the cutest little girls in the history of the universe — Mendes' quotes on motherhood are all spot-on. Like that time she totally nailed what it's like to be a new mom while on Ellen. "I'm so incredibly tired. I thought I was tired before at times, you know, but no. Nothing like this, but I wouldn't have it any other way," Mendes said after welcoming Esmeralda.
For me, it's always a breath of fresh air when celebrity parents get real about the struggles of parenthood. It turns out, they're not one-dimensional, gorgeous robots who always look flawless and never have problems. (Who knew?) No matter how rich and famous a person happens to be, having children is a humbling experience. And sometimes, parents have to pick their battles — it's either that, or completely lose their minds. And in my opinion, Eva Mendes is doing it right.
Check out Romper's new video series, Bearing The Motherload, where disagreeing parents from different sides of an issue sit down with a mediator and talk about how to support (and not judge) each other's parenting perspectives. New episodes air Mondays on Facebook.