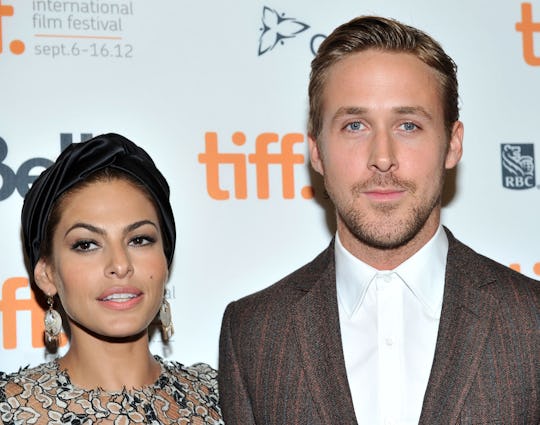 Sonia Recchia/Getty Images Entertainment/Getty Images
Eva Mendes' Quotes About Motherhood Reveal She & Ryan Gosling Love Being Parents
There's no doubt Eva Mendes is a protective mother. She and Ryan Gosling have two kids together, but fans have trouble learning about their clan. Eva Mendes' quotes about motherhood reveal that she's devoted to her daughters, even if she's careful never to reveal too much about their family.
Gosling and Mendes are a Hollywood It couple, but they rarely embrace the label; instead of giving in to pressure for detail, the two mostly stay mum about their lives together. When Mendes got pregnant the first time, the public didn't find out for nearly seven months, Vanity Fair reported. The press only found out that Mendes gave birth to her second baby after TMZ published what is believed to be the birth certificate. Esmeralda Amada came into the world in September 2014, and Amada Lee was reportedly born in April 2016. Mendes mostly keeps quiet about her kids, but she has let fans in on a few details. During an interview with Latina magazine, Mendes revealed that her standards for a good day as the mom of a newborn aren't too high, E! News reported:
I don't have it together at all. I'm home with my baby, not sleeping.
The same was true when she first became a mom; on Ellen, she basically summarized what it's like to be a new mom:
I'm so incredibly tired. I thought I was tired before at times, you know, but no. Nothing like this, but I wouldn't have it any other way.
In Mendes' interview with Violet Grey, the actor revealed that she's trying to keep child care in the family:
I'm doing it without a nanny for now but I'm open to the idea of having a nanny in the future. Esmeralda has two amazing grandmothers and incredible aunties who come over and really help me. But as far as a nanny or a night nurse, for me that part of being a mother at this early stage is the struggle of not being able to sleep and not knowing what I'm doing and really going through it with her and battling out those nights.
Keeping the connection to family is important to Mendes. Mendes' daughter's names even have a sentimental meaning, according to Marie Claire:
My grandmother's name is Amada, and Esmeralda Amada is the name of our eldest. We had a few names picked out for our new baby, and when she was born, we didn't feel like those names were her. We came up with a few more, even that morning, and tried them out. We were like, 'What about Viviana?' But we just kept going back to Amada.
The Mendes family may all be a part of the children's lives, but Mendes benefits particularly from the support of her mom. In an interview with Extra, Mendes revealed that becoming a mother herself gave her much more respect for her own mom:
My mother's never gotten more, like, "I love you so much, Mommy" texts. I mean, randomly. I'm just like, "I love you so much, Mom. You're the best, Mom." I swear to god, if you look at my text history, it's like all how much I love her....
In the Mendes family, heritage is important. Mendes' Latina magazine interview revealed that she cares deeply about ensuring her girls have a proper introduction to their culture:
We're constantly playing Cuban music. I speak to them in Spanish, and my mom speaks to Esmeralda in Spanish. Well, now she speaks to both of them in Spanish. Any time I have an opportunity to introduce her or them—I have to say "them" now, though my newborn just sleeps all the time—to my culture, whether it's through music, or through food, I do. That is a main priority, for sure.
Fans of Gosling and Mendes would love to see an Instagram feed filled with family pics, but that likely won't be happening. After having her first baby, Mendes told Violet Grey that privacy is essential:
Whether we like it or not, privacy is going to be very difficult for Esmeralda. I think it's unfair but that's our reality. So Ryan and I decided early on to give her as much privacy as we could. And my pregnancy was the first opportunity to give her that. It's such an intimate time for the mother, too. I know that it seems all very innocuous when you're flipping through a tabloid at the doctor's office or see a photo of a pregnant lady online, but I find the media's "bump watch" obsession to be both intrusive and stressful. So I made a decision to eject myself from it completely. I was like, "Annnnd I'm out."
Gosling and Mendes may be two of the coolest parents on Earth, but they're not flaunting it. Instead, they've created a home life that seems to live in an almost entirely separate realm from their public lives, and that's just the way they like it.