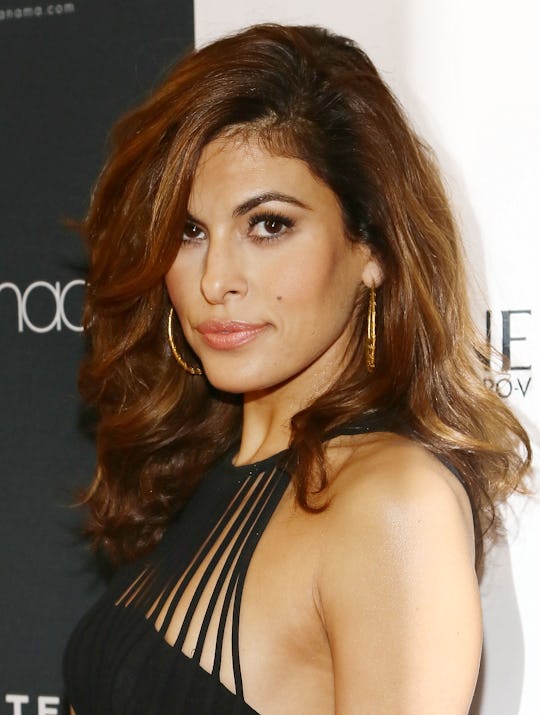 Astrid Stawiarz/Getty Images Entertainment/Getty Images
Eva Mendes Shared A Rare & Relatable Update On Life With Her Daughters
Some celebrities are well known for being pretty private and who can blame them — especially when it comes to protecting the privacy of their children? Celebrities are still parents, though, and sometimes, like any other mom or dad, they just need a second to gush over their kids. Recently, Eva Mendes shared an update on her daughters and all working moms can relate.
Mendes is a woman that has done it all. From appearing in films like 2 Fast 2 Furious, Hitch, and Training Day to modeling and sporting her own clothing collection, Mendes has been busy. Considering the multiple roles she has to juggle, it makes sense that Mendes is a little more private than most about her personal life. But despite Mendes' notorious levels of privacy, she's always been open about her extreme love for her daughters.
In 2011, reports arose around Mendes dating Ryan Gosling, her co-star in The Place Beyond The Pines. Fast forward seven years later, and the couple now has two daughters together: Esmeralda, born Sept. 12, 2014 and Amada Lee, born April 29, 2016.
Since having children, Mendes has maintained a steady working life. For those working moms out there, many can attest to how challenging maintaining balance can be.
In a recent red carpet live interview with E! News, Mendes couldn't help but gush over her daughters. The clip started with the interviewer asking Mendes if she got the bug to start diving back into film or television again, which Mendes answered by saying maybe, if a worthwhile option came around, and, for a second, it seemed that she would leave it at that. But then, Mendes clarified: "
that I don't want to leave them. They're just still so little."
When speaking about balancing her entrepreneurship, career, and home life, Mendes had a really honest answer. According to E! News, she told the interviewer:
I don't feel like I have it balanced at all. I kind of have been figuring it out as I'm going along and it's just important to have a support system. I have my family, I have Ryan's family and that's just like, invaluable to have family around supporting you.
People definitely have to applaud Mendes' openness in answering that question!
Mom-shaming is not a new phenomenon and celebrities often catch the brunt of it. Because of their position in the public eye, sometimes people think they have the right, and information, to dictate how celebrity moms should behave. Celebrity moms have been targeted for things like not breastfeeding to going out for dinner while their child was still an infant. And many have been shamed for working. Earlier this summer, as Refinery 29 reported, Khloe Kardashian was shamed for working a charity event instead of staying home with baby True.
Working moms everywhere can definitely relate to being shamed or even internalizing some of that guilt themselves. But, as Mendes herself said, you have to work, if that's what you choose to do.
This isn't the first time, Mendes opened up about mom guilt. As reported by TODAY, Mendes once said, "Oh my God, nobody warns you about the guilt that you feel when you do work! I don't know how I find balance, because I think it is like a day-to-day kind of struggle, you know?"
Mendes openly admitting that sometimes she feels she doesn't have it all balanced is important because that's the reality for a lot of people. It's hard to balance motherhood with work, but figuring it out as you go along isn't bad — it's totally normal. And, as Mendes highlighted, it's important to have a support system to fall back on.
Beyond sharing her experience with mom guilt, Mendes also shared that her kids live a pretty normal life, despite having a mom as famous and glamorous as theirs. In fact, according to Mendes, "They live in jammies," as she told E! News, adding. "They're still in diapers — well, one of them's still in diapers, so they're just being babies as they should be."
Though Mendes keeps much of her private life out of the spotlight, it's always refreshing when she does share a bit about her life as a mom as she did this weekend.