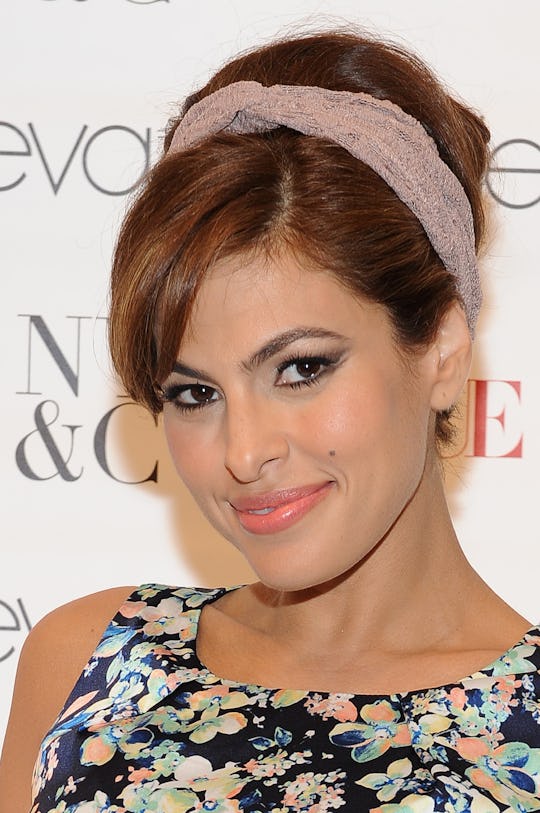 Angela Weiss/Getty Images Entertainment/Getty Images
Eva Mendez Isn't Rushing To Lose The Baby Weight & Her Message Is Refreshingly Real
Pregnant celebs can't escape it: as soon as news breaks that they've given birth, paparazzi compete to capture the first photo of mom's post-baby bod. After the physically and emotionally intense experience of bringing a life into the world, the last thing most women want to do is hit the gym. Famous mothers tend to have no choice: they either lose weight fast or concede to having their physique dissected on social media. The pressure isn't fair, and one actor is standing up to it. Eva Mendes says she's not rushing to lose the baby weight: a reminder that beauty isn't inextricably tied to the number on the scale.
In an interview with E! News published Wednesday, Mendes said being a mom to 2-year-old Esmeralda and soon-to-be 5-month-old Amada Lee led her to relax a bit about her appearance:
I'm in no rush to go back to my size. I'm having a good 'ol time taking advantage of the post-pregnancy thing. As long as I fit in it and feel alright and it doesn't have baby vomit, I think I'm pretty good.
Mendes doesn't feel the need to go grocery shopping in carefully-curated ensembles, either. Despite having one of the most coveted closets in America, she welcomes the opportunity to spend less time focusing on her outfits:
I think basically the bar is just lower. If I even get dressed today it's an accomplishment. I really do think that in a way that is true for me. It's just about speed now. What can I get into the fastest? What am I going to feel secure in?
The star's point of view is particularly meaningful in light of comments she's made in the past about the importance of caring for one's appearance during marriage. Back in 2015, Extra's AJ Calloway interviewed Mendes about life as a mom. While talking about her relationship with partner Ryan Gosling, Mendes jokingly suggested that sweatpants cause divorce: "You can't do sweatpants… ladies, number one cause of divorce in America, sweatpants, no!" Viewers answered the comment with a whole lot of backlash, and according to Jezebel, Mendes apologized on Instagram. The actor posted a photo of sweatpants and captioned it:
Dear favorite sweatpants, I was just kidding when I said you're the #1 cause of divorce. Everyone knows that orange crocs are the #1 cause of divorce. Either way it was a bad joke and feel terrible if you or anyone thought I was serious. Thanks for understanding sweatpants. Sorry orange crocs.
Sweatpants or no sweatpants, Mendes is owning her identity as a mom and refusing to change her body or her clothing choices to please anyone other than herself. Instead of micromanaging her image, Mendes told E! News that she's focused on raising her daughters to be independent young women who develop their own identities and remain true to themselves. She did admit that being a mom is definitely challenging and often unpredictable:
I don't think you could ever be prepared. A lot of people are warning me, and I'm like, 'Well, maybe she won't go through that. Maybe she's the one that doesn't go through it.' But it's exciting; I'm looking forward to it.
Mendes took on fewer roles during her first years of motherhood, but it looks as though she may have a major project slated for release in April 2017. The actor is rumored to play Monica Fuentes in the upcoming installment of the Fast & Furious franchise, Fast 8, according to IMDB. Mendes introduced Monica in 2003's 2 Fast 2 Furious before reprising the role in 2011's Fast Five.
Moms often feel pressured to appear a certain way, but Mendes' comments are evidence that even a major movie star who's part of a Hollywood power couple can refuse to let the societally-constructed standards and opinions of others sway her self-worth. Mendes is always stunning, but this bit of beauty rebellion looks particularly good on her.