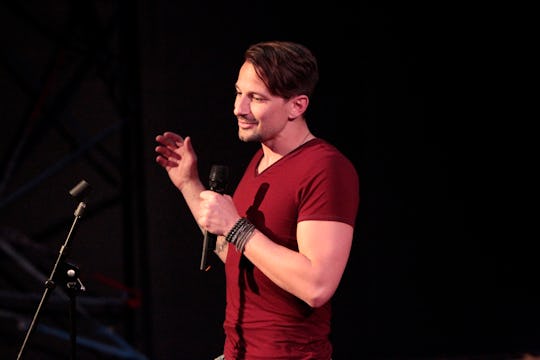 ABC/Rick Rowell
Evan Attacks Chad On 'The Bachelorette' & It's Totally Not Cool
Most people who've watched this season of The Bachelorette have come to hate Chad, the meat-eating luxury real estate agent. But when Evan attacked Chad on The Bachelorette tonight, the show's resident villain earned a bit of sympathy from fans of the show and even a few housemates.
During tonight's group date, the selected suitors were asked to share their most embarrassing sex stories to Jo Jo (and an entire audience of strangers.) While prepping for their time on the mic, Evan said he was going to tell a story that related to Chad. But some of the things he said may have crossed the line. As an erectile dysfunction specialist, Evan decided to use his knowledge to subtly attack his competitor. But the things he said not only crossed a line, but may not have been entirely true.
In short, Evan implied that Chad takes steroids, which would have an impact on his penis and sexual performance.
It's hard to say but, Jo Jo knows, I happen to be in the business of erectile dysfunction. As you all know I'm in a house filled with a bunch of guys, and a lot of testosterone. So I want to tell a cautionary tale: I want to tell the dangers of using steroids. A couple of the benefits are you get the rope-like muscles, you get the chiseled stuff happening, and you know, lots of guys are natural in the ouse. But then you get the dangers of steroids usage, and really steroid overdose. You withdrawal from people, saying things like 'the girl I'm trying to date is nagging me.' To all you guys an girls out there, make sure your boys aren't juicing.
As Evan performed his less than stellar standup, the cameras panned to a stone-cold Chad, who was clearly upset by the implications (and rightfully so, in my humble opinion.) Even some of Evan's fellow housemates were uncomfortable with the routine, saying that Chad have every right to be upset and lash out — physically or other wise.
And Chad definitely got his revenge. When Evan returned to his seat, Chad yanked him by the shirt and took him down. Then, during his own stand up routine, he called Jo Jo up to the stage and kissed her. Mic drop bro!
Do I like Chad? Absolutely not. Did I sympathize for him tonight? Yes. What Evan did during the group date was on par with some of Chad's scum bag moments during the season. Regardless of how anyone feels about Chad, it is never OK to imply someone has an addition to illegal substances. Bottom line.