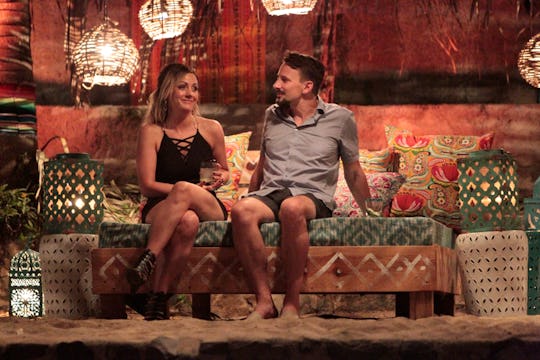 ABC/Rick Rowell
Evan & Carly Kiss On 'Bachelor In Paradise', But It Doesn't Go Great
It was clear that Evan and Carly fell into a He's Just Not That Into You-esque scenario on Monday's episode of Bachelor in Paradise – only it was more like "she's just not that into you." Carly, trying to be a good game player and secure a rose in the first rose ceremony, started hitting on Evan. It worked, though Carly had to be the one in charge, and they kissed...but she wasn't that satisfied. Evan and Carly kissed on Bachelor in Parade, and it did not go too well.
"Evan definitely has my attention," Carly said. "I'm kind of wondering what kissing him would be like." We remember Evan from The Bachelorette, and we know he was not the most forward person – unless it came to pissing of Chad, on which he stepped up multiple times. But when it comes to love, Evan was a little more reserved with JoJo, and now with Carly. She, then, had to make the moves. "Would he be aggressive? Would it be soft? Would it be easy? Would it be weird? Would it be wonderful," she asked. "I want someone who kisses me and I can tell that this is a passionate kiss."
When Carly realized these questions would not be answered if she left it to Evan, she kissed him. And it certainly was not wonderful like she hoped. While Evan was definetely into it, Carly was not – and she wasn't playing around. "That kiss was so terrible," she said. Yikes.
Evan felt the complete opposite about it: "Kissing Carly for the first time was incredible. I kissed Carly and I was just like, 'I just want to kiss you some more and more,'" he said. "It was butterflies and explosions. It was a perfect kiss." This was intercut of shots of Evan, alone in his bed, caressing himself – which was totally voyeuristic, but drove the point home. His affection for Carly was confirmed again when he gave her a rose.
Despite the fact that the kiss was horrible, Carly got what she wanted: she's staying in the competition. Whether she keeps things going with Evan and gives kissing him another chance, only time will tell. If they do end up in love on Bachelor in Paradise – which is unlikely, but stranger things have happened – they'll always be able to look back on their first kiss...and the fact that Carly absolutely hated it.