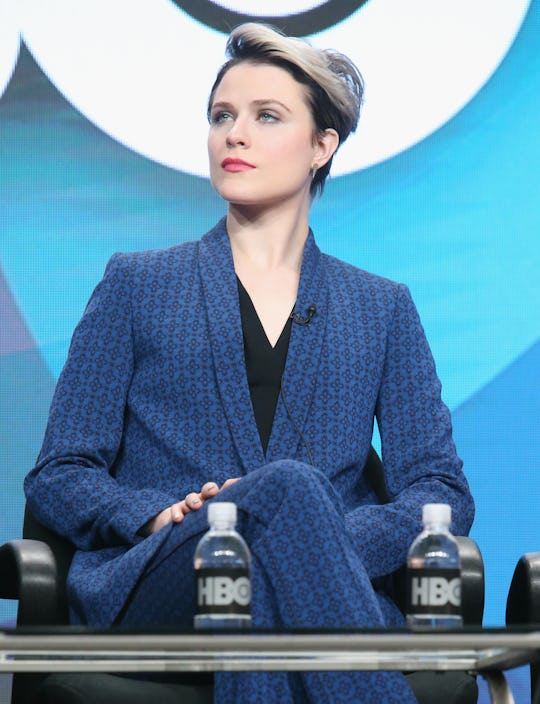 Frederick M. Brown/Getty Images Entertainment/Getty Images
Evan Rachel Wood Opens Up About Her Sexual Assault & Her Message Is Powerful
"I don't believe we live in a time where people can stay silent any longer," Westworld star Evan Rachel Wood concluded in a recent interview with Rolling Stone. During the sit-down, the actress revealed that she has experienced "physical, psychological, [and] sexual" abuse. According to the National Rape Response Services, "one in five women has been the victim of attempted or completed rape in their lifetime," and wistfully, Wood has been that one — twice. In the interview, Evan Rachel Wood opens up about her sexual assault to Rolling Stone, and her message is powerful and important to read.
In the piece, Wood believes that her sexuality made her vulnerable. The Thirteen actress came out publicly as bisexual in 2011, but realized that she was attracted to women at age 4 or 5. Wood described herself as "gender fluid" to Rolling Stone, and identified her sexuality as a pressure point. She said she was first raped by a significant other while dating, and the second time by an owner of a bar.
"I think I was taken advantage of because someone knew there was something about me that they could exploit."
When people see someone as different, that's when he or she is often made a target. The star admitted that she would have been better accepted by the LGBT society had she come out as a lesbian instead, and then went into the difficulties of liking two genders.
"[Bisexuality] was always talked about like a phase or something stupid, or something you were doing for attention. You know, bisexuality is worthy of eye rolls. And I didn't realize how damaging that was until I tried to have healthy relationships as an adult and realized that there was still all this shame and conditioning and stigma around my sexuality that was really affecting the way I related to people."
For Wood, part of her role on Westworld, HBO's new smash hit, coincides with her own experiences in the past. There is no doubt that this is difficult, and in the Rolling Stones piece, Wood addresses what is like acting on a show that contains sexual violence and rape. "The thing about Westworld," she said, "Is we don't actually show any act of rape." However, the show makes it understood that sexual abuse is what's happening behind literal closed doors on the show.
And when questioned about her abuse, she confessed that "[her] demons never fully leave."
"But when you're using them to create something else, it almost gives them a purpose and feels like none of it was in vain. I think that's how I make peace with it. Westworld? Good God. I left so much in that first season and never looked back."
Wood uses her past as a plateau for her present by using her experience as an avenue to better her work. She has rendered her pain into power, pulling from dark experiences, and then leaving that energy in each episode. In this way, she faces her "demons" in a healthy manner, depositing some of them into the realm of Westworld. We should all strive to do what Wood has done; namely accept our scars, and carve out talent from trauma.
After the Rolling Stones interview was released, Wood took to her Twitter to reveal the confession letter she wrote to Rolling Stone. In it, she goes into detail about her experiences, even mentioning that she tried to commit suicide after both rapes happened, which she said evaluated as potential factors in trying to take her own life.
Wood's strength, honesty, and transparency is incredibly valuable for readers, viewers, and fans. She is showing what the face of sexual assault looks like, and it is strong. It's also heartbreakingly honest. As she notes at the end of her confession, it's not easy. There are bad days, and then there are even worse days. But, she is showing how she has "demons" and even accepting that, and sharing that, can have an impact.