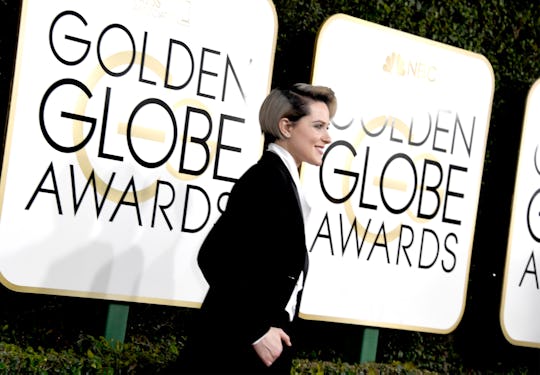 Frazer Harrison/Getty Images Entertainment/Getty Images
Why Evan Rachel Wood Wore A Suit To The Globes
"Who are you wearing?" is always the question du jour on Hollywood's red carpets. But at Sunday's Golden Globe awards one actress used her fashion sense to make quite the statement. Evan Rachel Wood wore a suit to the Golden Globes, and her comments about wearing a custom Altuzarra tuxedo were aimed directly at empowering not just women on the red carpet, but little girls everywhere. Commenting on her choice of red carpet attire, Wood noted how Sunday night's Golden Globes marked her third nomination and sixth appearance at the debut event of Hollywood's awards season. "I've worn a dress every time," she said. Wood continued:
I love dresses, I'm not trying to protest dresses. But, I wanna make sure that young girls and women know they aren't a requirement and that you don't have to wear one if you don't want to.
Boy howdy, it's nice to have such refreshing candor like that on the red carpet. It looks like if red carpet hosts aren't necessarily embracing the #AskHerMore movement, at least Hollywood's stars can use the red carpet as their own platform for female empowerment. Wood also told viewers that above all else, women are so much more than just what they wear, reminding girls to, "just be yourself because your worth is more than that."
Wood also noted that her Golden Globes outfit was a direct nod to the classic gender-bending musical Victor/Victoria — and, now that I look at her again in that gorgeous tux, I could totally see her playing the lead role that Julie Andrews made famous in the 1982 film adaptation... Hollywood, are you listening? Wood also paid tribute to late music icon David Bowie with her choice of formal wear: Bowie would have turned 70 today.
Wood's message is an important one in the age of celebrity culture worship: Plenty of little girls see their favorite female stars walk red carpets in ballgown after ballgown, leading to the impression that dressing up means just that —wearing a dress. That's what makes Wood's tux on the red carpet so inspiring: It's a bold and stylish challenge to the status quo of what Hollywood "expects" a woman should wear and how she should present herself at events such as the Golden Globes.
Much like her Westsworld character, Dolores, Wood deviated from her Hollywood "loop" — that women must wear fancy dresses on the red carpet. And let's be honest, it's a Hollywood trope that's gotten pretty tired anyway. F*cking work it in your amazing tux, Dolores. BernArnold would be proud.