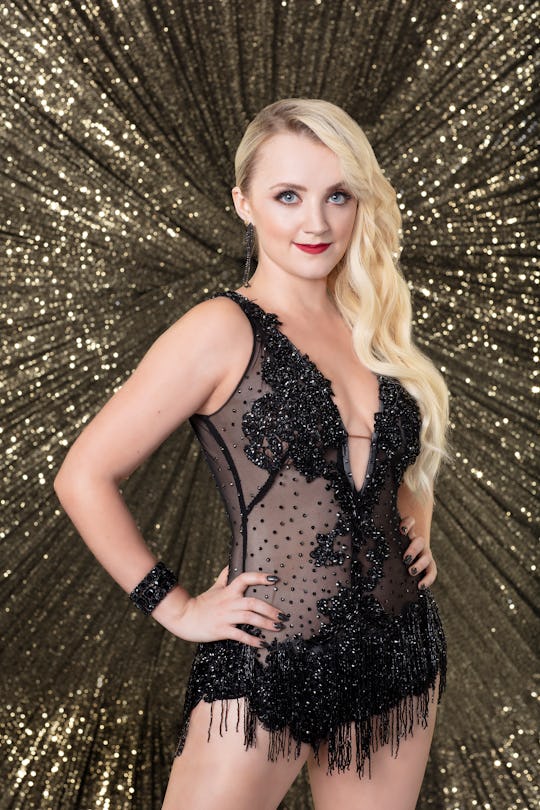 Craig Sjodin/ABC
'Harry Potter' Fans Can't Wait To See Evanna Lynch On 'DWTS'
Dancing With the Stars is about to embark on Season 27, and by now fans have seen countless contestants waltz across the show's dance floor. But it's possible no contestant was quite as magical as the one making her debut this year, because she's an actual witch — or at least she played one in the Harry Potter films that made her famous. Evanna Lynch is going to be on DWTS and HP fans are eager to see how she'll do.
For those not in the know, Lynch played Luna Lovegood in the fifth, sixth, and seventh films in the franchise. Luna was a little bit of an oddball who was always sharing wild theories about (usually) imaginary animals; because of that, she didn't fit in with the rest of the students at Hogwarts. But she became a close and trustworthy friend to Harry, in part because she was one of the few who understood what he was going through. Luna could also bust a sweet move — which Lynch portrayed flawlessly in Half-Blood Prince. If she could capture Luna's unique dancing style, then she might be able to thrive on DWTS too.
And if Twitter is any indication, fans are ready to cheer her on every step of the way.
Lynch seems just as excited as they are. She shared the news of her casting on Instagram, posting a picture of herself alongside partner Keo Motsepe with the caption, "See these faces? These are the faces of WINNERS. Right, [Keo Motsepe]?! I could not be more thrilled to be part of this show and to have the best partner!"
It looks like Lynch is incredibly confident right out the gate, which can only bolster her chances on the show. Though hard work and natural talent play a part in succeeding on DWTS, it's also important to have faith in yourself. And Lynch has that down pat.
She also has Motsepe to help her. Not only is he a professional dancer, he has a long history with DWTS, so he knows just how it works. He joined the show in Season 19 and has been on it ever since; he previously partnered with Lolo Jones, Charlotte McKinney, Chaka Khan, Jodie Sweetin, Charo, Barbara Corcoran, and Jennie Finch Daigle. All his experience is bound to give Lynch a boost.
Since her days playing Luna Lovegood, Lynch has continued to pursue acting. But she's also spoken about how she felt she needed to grow and push herself more as an artist. "Sometimes life gives you an easy route that dulls your appetite for chasing your dreams and you become inhibited by fear of what lays beyond comfort and safety," she wrote on Instagram. "That for me has been living off the world I inhabited a decade ago."
Lynch continued, "It's a blessing to have a safety net and while it's possible to maintain safety and chaos together I believe I need insecurity to light a fire under my scared little artist's a**." Lynch appeared on stage in Houdini and Disco Pigs, as well as in the TV shows Sinbad and Apex. She was in the films Danny and the Human Zoo and My Name is Emily, too, with an upcoming appearance in Madness in the Method to look forward to. But DWTS is definitely a new challenge for her, because she doesn't seem to have any prior dance experience.
But whatever Lynch lacks in practical knowledge is bound to be overcome by the work she's doing in preparation for her debut on DWTS. And with the fan support she's getting on Twitter, she might just make it all the way to the end.